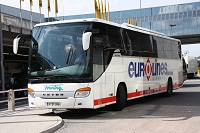 GERMANY
The German government has given its approval to a planned lifting of restrictions on charter-bus companies.
The move will open the way for express coach business to actively compete with state railway Deutsche Bahn and offer increased travel options to passengers for long-haul routes.
Chancellor Angela Merkel's government claims the fulfilment of this liberalisation within the passenger transport sector achieves one of its long-held objectives – to end market dominance by state-owned rail, increase competition in the market, allow people to travel in a more environmentally sensitive way and have a positive effect on fare reduction.
Transport minister Peter Ramsauer said the approval had yet to clear both upper and lower houses of government, but once complete, it would open the way for charter companies to apply for operating licenses. He expected full approval would be granted and competition would commence in 2012.