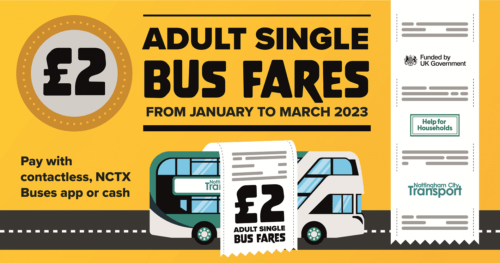 Over 130 bus operators outside London will be part of the scheme, which the Government says will take an estimated two million cars off the road
Passengers are being encouraged to 'Get Around for £2' by bus from this month until March, with participating bus operators across England launching marketing campaigns to promote the Government's fare cap initiative. The scheme has been desgned to help passengers save money and is backed by £60 million of Government funding to cap single tickets at £2. It will run across England from 1 January to 31 March, in all areas except London.
With the average single local bus ticket reported to cost £2.80, the Government says that passengers will save on average almost a third of the ticket price per journey, whilst in some rural areas a single ticket can cost over £5 meaning greater potential to save money by switching to bus. The scheme's aim is to get more commuters on buses and help to reduce emissions and congestion by taking an estimated two million cars off the roads. However, it was noted that many regular commuters will already be using weekly or monthly tickets which already offer savings over a standard single fare, which has led some to question whether the new cap can deliver the promised 'real savings for those most affected by the rising cost of living,' many of whom are already likely to be using discounted tickets.
In a list published online, the Government confirmed the participation of over 130 bus operators including major groups. Buses Minister Richard Holden said: "Brits love buses. They're the most popular form of public transport in England, making up half of all journeys. So we're investing £60 million to cap single bus fares at £2 to help families, students and commuters and get people back on the bus. The scheme will also take two million car journeys off the road and it's fantastic to see so many bus operators signing up. So, if you're in Carlisle or Weston-Super-Mare, Birmingham or Doncaster, make sure you hop on the bus and 'Get Around for £2' between 1 January and 31 March."
Since bus fares vary across different parts of the country and between bus operators, the Government seens the cap as an important step in ensuring passengers across the country are getting a fair deal. The scheme forms part of its Help for Households campaign, with strong hopes that it will also help the bus industry continue its recovery from the pandemic by encouraging greater bus use. This initiative builds on the allocation of more than £2 billion to support bus services in England through the pandemic and a commitment to fund improved services, new bus priority measures and new electric or hydrogen buses as part of the Government's Bus Back Better national bus strategy.
Tom Stables, CEO of National Express UK, said: "More people using buses is good for the economy, environment and wider society. We know that great value, low fares encourage people to switch to the bus so are proud to join this scheme. And even better, we're also freezing child fares at £1. Bus travel is simple, cheap and easy and there's never been a better time to get on board."
Martin Dean, Go-Ahead's Managing Director for its UK Regional Bus division, said: "Many of our passengers are feeling the pinch this winter as household bills mount. So, we're proud that all our UK bus companies are supporting this Government initiative to help people with their travel costs. Under this special fare, you'll be able to go further than ever for £2. We hope it will encourage people to try some new routes, have some adventures and to explore the freedom of travelling by bus."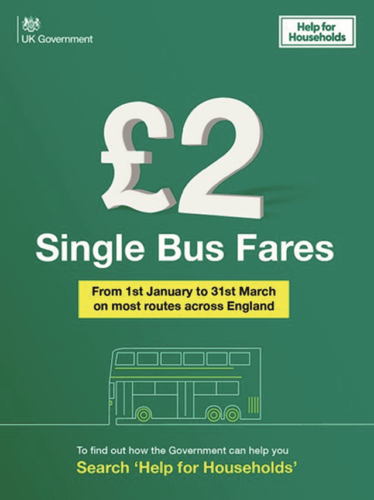 UK Managing Director for Stagecoach Carla Stockton-Jones commented: "We are pleased to be involved in this new initiative by the Department for Transport, which will help so many people at a time where money needs to stretch further and at the same time aims to reduce car use and encourage people onto more sustainable public transport.
"We already offer some of the lowest ticket prices in the country with the average price of a weekly Stagecoach ticket in England being less than £18 per week or £2.60 per day. We hope that this new promotion helps more people to get on board with us, and continue benefitting from our value-for-money tickets after the Government scheme has ended.
"However, fares are just one tool that can make buses more attractive. We also need a focus on priority measures which will keep buses out of congestion, speed up journey times, help keep fares low, and ensure buses are reliable, factors which we know are important for passengers and which we are actively working with local and national governments on."
Andrew Jarvis, Chief Operations Officer at First Bus UK added: "First Bus welcomes the announcement of the Department for Transport's £2 flat fare initiative across our operating regions in England. We are keen to work with the UK Government and our local authority partners on any initiatives that aim to make bus travel in the UK more attractive to more people. During this cost-of-living crisis, the bus offers everyone a cost-effective and environmentally friendly, alternative mode of transport.
"We look forward to welcoming new and existing customers alike on board our services and hope that this scheme can be a success in encouraging more people to consider using the bus as part of their everyday travel habits."
Transdev CEO Alex Hornby said: "Thanks to our continued partnership with industry partners and UK Government, we are delighted to be able to offer this amazing promotion to our customers throughout Yorkshire, Lancashire, and Greater Manchester, starting in January 2023.
"We've been among the most successful operators in the country in attracting customers back to bus post-pandemic. Even so, we know there are still some who have yet to return to our routes and especially during the current cost of living crisis, we hope this money-saving promotion will attract them back on board."
Transdev operates a number of long distance routes across the north of England, and highlighted some of the potential savings, such as Leeds to Scarborough by Coastliner, a distance 74 miles with a normal fare of £15, a saving of 87%; Burnley to Keighley, 21 miles and previously £7.80; Ripon to Leeds, 29 miles and previously £7.50; or Preston to Burnley, 26 miles and previously £7.70.
Reduced fares for journeys wholly within West Yorkshire and Greater Manchester, which have already been reduced to £2 with support from Metro mayors Tracy Brabin and Andy Burnham, will continue to be available as normal, as will those in other areas such as South Yorkshire which launched the scheme earlier with additional local funding.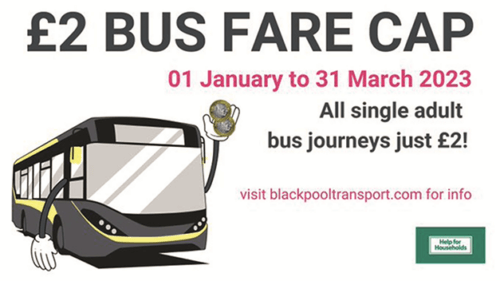 Reading Buses and Newbury & District is another operator taking part in the scheme, and will also be offering it on its service to London, taking advantage of the significant headline savings to promote the route. Robert Williams, Chief Executive Officer of Reading Buses, said: "We are delighted to be able to bring this scheme to our network, complementing the great value fares we already have in place. It is a real opportunity for those who perhaps would not have previously considered the bus to give it a try, especially on longer distance routes like Green Line 702 to London where the savings are the largest."
Whilst many operators will only be amending their single fares, South West Coaches said it is also changing its returns fares to £4.
Elsewhere, the bus fares pilot scheme, backed by £23.5 million of Government funding, launched in Cornwall this April has already reported a significant increase in passenger numbers. Working alongside the 'Any Ticket Any Bus' campaign, the fares pilot, running over four years, includes a £2.50 day ticket within towns or a £5 day ticket across all of Cornwall, which is valid across different bus operators, helping to prove the potential for such schemes on a wider basis and in turn encouraging more people to choose buses for local journeys, helping the Government to achieve its Net Zero targets.
Graham Vidler, Chief Executive of the Confederation of Passenger Transport said: "We look forward to welcoming more customers on board when the £2 fare cap in England starts in January, as it complements great value fares already in place that make taking the bus more attractive and environmentally friendly this winter. Travelling for £2 on the bus both helps customers facing rising cost challenges and try a new travel option to get to work, education, public services, leisure or see loved ones."
Over 130 operators are taking part, but of note is that participation in the bus fare cap scheme is voluntary, and some notable small and medium-sized operators have chosen not to take part, with some fearing a high administrative burden. Sources also suggested that operators will only receive 80% of the difference between the £2 and their original fare.
CBW has also already heard of staff explaining to passengers that it is now cheaper to buy two single tickets for their trip, but passengers still refusing or insisting that they want to buy a return ticket, despite it costing more, suggesting that more or improved publicity and information might be needed in some areas.
The Government said it will continue to work closely with bus operators and local authorities and consider future support to help passengers continue accessing reliable and affordable bus services after the scheme ends in March.