The winners of the first Greater Manchester bus franchises were announced immediately before Christmas, with Go-Ahead and Diamond taking the initial tranche
In a press conference held in Manchester on Friday 23 December, the winners of the first contracts to operate bus services under Transport for Greater Manchester's new and hotly-debated franchising régime were announced by Mayor of Greater Manchester Andy Burnham along with colleagues from neighbouring towns which form part of the scheme.
The Mayor talked of plans to integrate 20% of train services into Bee Network from 2025 as well as pledging a renewed focus on customer experience with a raft of improvements to be delivered over next 12 months and another 50 electric buses to operate in Bury, Rochdale and Oldham.
The city-region is the first to use powers contained within the Bus Services Act 2017, with Go North West and Diamond appointed to run Greater Manchester's first 'locally controlled bus services' since deregulation in 1986, signifying what the Mayor says is the biggest change to public transport in generations. With local control and accountability, a key element of the region's new integrated Bee Network, the Mayor said that customer focused performance targets, including punctuality and reliability of services and levels of customer complaints, will sit at the heart of the operators' contracts and have a direct impact on the amount they are paid.
The Mayor said: "Locally controlled bus services are fundamental to our Bee Network vision for a better public transport network for all, and as the first area to do this outside London, Greater Manchester is once again blazing a trail. Franchising will enable us to better integrate services as part of a joined-up network, with simpler fares and ticketing, a price cap so no one pays more than they need to, a better customer service offer and a single look for the whole network.
"The move to franchising is the biggest change to public transport for almost 40 years and today is a significant step on our journey as we appoint operators to run the very first franchised services from September next year and I am especially pleased that both operators provided strong social value plans, with commitments around recruitment and pay in line with the city-region's Good Employment Charter."
The contracts were signed by operators on 23 December, with the first services under the new régime to start on 24 September this year. Go North West was announced as winner of the initial two large franchises, and Diamond Bus North West the winner of a suite of seven smaller franchises across Wigan, Bolton and parts of Salford and Bury.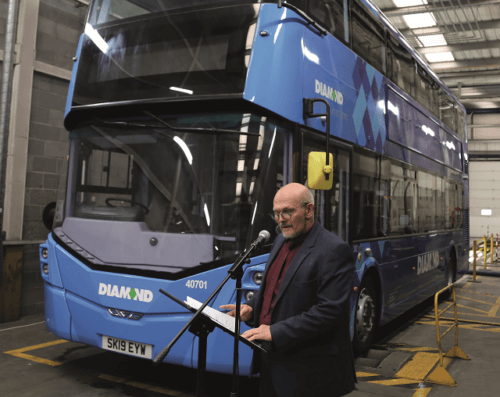 Following an initial order for 50 brand new electric buses to operate in Wigan and Bolton, an order for a further 50 double-deck electric buses has also now been confirmed with manufacturer Alexander Dennis at a cost of £22.7m, to operate routes in parts of Bury, Rochdale and Oldham when the second tranche of franchising is introduced there in April 2024. The buses will be funded from the Government's City Region Sustainable Transport Settlement, following Greater Manchester's award of £1.07 billion earlier this year, £438m of which is already ringfenced to improve buses, routes and services.
Operator response
Go North West beat off competition from eight other operators for routes in Wigan and Bolton. It will operate 55 routes served by a fleet of 308 buses, and 750 employees are expected to transfer across from existing operators. Responding to the announcement, Managing Director of Go North West Nigel Featham said: "We are extremely proud and excited to have been selected to run the first franchised bus services in Greater Manchester and to be able to play our part in delivering the Bee Network. We are absolutely committed to providing the best possible service to the people of Bolton and Wigan and can't wait to get started. This new era of public transport will not only represent major change for bus passengers, but the thousands of people working to provide these vital services.
"We are very aware of the significance of these awards, and look forward to working closely with TfGM to deliver best of class bus transport in Wigan and Bolton from day one. We're delighted to be the first bus operator contracted to run services for Manchester's new Bee Network. We've got an exceptional team at Go North West and we're very proud of the level of service we provide to passengers."
At the announcement, the Mayor said that the changes could prove unsettling for staff, but assured workers that they would be protected under TUPE regulations. Nigel added: "While change can be exciting and full of new possibilities, it can also be unsettling and I want to reassure staff working at the depots to be run by Go North West from next September that we will be working hard to ensure a smooth transition in the coming months."
Bob Dunn, Managing Director at Diamond Bus North West, said: "I am pleased that we have won seven of the eleven franchises that we have bid for and look forward to the new challenges and opportunities that the next year will bring. We will be stepping up the quality on over 40 bus routes in Greater Manchester, supported by our team of over 250 colleagues and 80 buses.
"We cannot wait to meet our new customers, and look forward to continuing to playing a key role in the significant improvements taking place to Greater Manchester's public transport offer."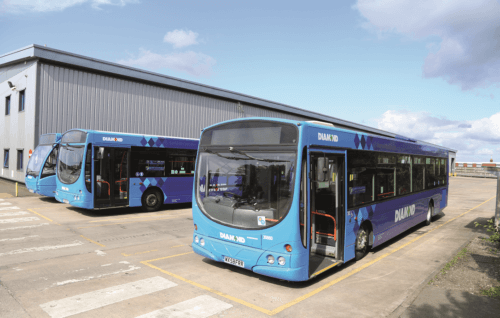 However, Diamond Bus owner Rotala said that following three years of dedicated investment in its Bolton depot and Greater Manchester fleet, it was disappointed not to have won a large franchise opportunity in the first tranche of the franchising scheme. Some existing employees are expected to transfer to a new operator but the firm said it remained hopeful of retaining as many as possible to continue its small franchise work, which will operate from its Eccles depot, whilst some staff in regional group roles are anticipated to be retained to support the smaller North West and Preston Bus businesses.
Rotala has agreed in principle to sell its Bolton bus depot to the Greater Manchester Combined Authority (GMCA). In the interim period from completion of sale to GMCA and the commencement of the new successful franchise winner, Diamond will continue to operate services from Bolton, and it will lease the depot from GMCA for a nominal rent until September 2023. Furthermore, Diamond Bus North West says it intends, in September 2023, to dispose of the majority of the bus fleet currently based at the Bolton depot by placing these vehicles into the notional asset pool from which GMCA will allocate vehicles to the new franchises. The incoming franchise operator will then purchase the vehicles allocated by the GMCA from Diamond Bus North West.
The operator has been successful in the pre-qualification stages for participation in two further franchise rounds in the GMCA region, and says it expects a positive outcome from these.
Diamond's seven small franchises have a combined annual revenue of approximately £18.7 million and each is for a period of between three and five years. As a result, the Group said that the net effect on is expected to be a decline in its annual revenues in the GMCA area of approximately £6 million from the year ending 30 November 2024. The disposal of the Bolton depot and fleet is expected to yield approximately £30.1 million in cash, against a total unaudited net book value of at their respective dates of sale of approximately £22.7 million, with the associated mortgage and hire purchase finance debt which will be repaid out of the proceeds of sale. However, the award of the seven small franchises worth approximately £18.7 million of combined annual revenue will require the purchase of 67 new buses, as specified by the relevant contracts, at a total cost of approximately £13.0 million, which the firm said will be financed by new hire purchase debt.
During the announcement, the Mayor re-iterated that the first stage of franchising will simply see operators take on existing routes, with the network initially remaining as it is. Once the process is completed, he said, then further decisions could be taken on changes to services.
It remained to be seen at the time of going to press how other operators and services would be affected once the transfer of operations to new operators begins in September. A full feature looking at the process in detail, the associated costs, and how it will affect operations and services in both the short and long term, as well as cross-border services into neighbouring regions, is planned for a forthcoming issue.