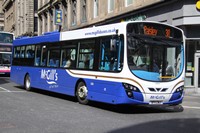 New passenger services and junction overhauls are included in the measures
Plans for a £3m extension to Glasgow's Fastlink bus corridor have been unveiled, the Scottish Herald reported.
The proposals, which will go out for public consultation in January, include simplifying a junction at Union Street and Argyle Street in the city centre – which is a congestion hot spot – and overhauling Union Street with improved passenger facilities, real-time information, widened and upgraded street lighting.
The Fastlink extension earmarked for completion in 2017.
The proposals come two months after the five-mile dedicated bus route saw its registered operators, McGill's and Stagecoach, temporarily suspend all services amid complaints that faulty traffic light signals were making journey times too slow. The problem was fixed and services were restored days later, though McGill's has subsequently ceased its flagship F1 hospital service.
Transport Minister Derek Mackay, who announced the plans during a speech at the Bus Rapid Transit UK conference in Glasgow, said: "This key project has come a long way and a great deal has been achieved, with even more to come.
"I look forward to the full benefits of the scheme being realised when the city centre elements of Fastlink are delivered in 2017, bringing additional benefits to passengers along the way."
The extension will include the delivery of additional bus priority measures designed to accelerate journey times through the city.
Ralph Roberts, Managing Director of McGill's, said: "The number one demand from our customers is that we deliver a reliable and punctual journey. Too many times, that ability is taken out of our hands through the unpredictable nature of our congested city streets.
"The existing Fastlink has started to deliver predictability of journey times on our Renfrewshire-Govan-City Centre corridor and this is to be applauded. I welcome the further planned investment which will hopefully deliver much needed reliability for beleaguered bus passengers."
Bailie Elaine McDougall, Glasgow City Council's Executive Member for Transport, said: "This is a tremendously exciting time for the city. We have delivered some significant and innovative new infrastructure and it's clear the new routes available to Fastlink buses have heavy demand."
Vice Chairman of SPT, Dennis McKenna, added: "The further roll out of Fastlink in the city centre will see passengers benefitting from improved bus facilities and improved bus services able to take advantage of bus priority measures throughout the city centre."