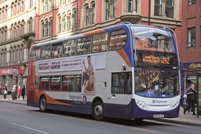 Statutory Quality Bus Partnership to start in April 2012 on Manchester's busiest bus corridor
Manchester's first Statutory Quality Bus Partnership (SQBP) is to go live from April 2012 after agreement from Transport for Greater Manchester's Committee (TfGMC) on Friday morning (November 11). This follows approvals from Manchester City Council and Stockport Metropolitan Borough Council Executive Committees in October.
The SQBP will cover the key A6 bus corridor between Hazel Grove and Manchester city centre, which operates with the most frequent single bus service in Greater Manchester (the 192), carrying almost 10 million passengers every year.
The A6 was chosen for the conurbation's first SQBPS as a result of the high passenger numbers, the improved bus infrastructure already in place as a result of the Quality Bus Corridor programme and recent investment by operators in their fleet.
A statutory scheme, the SQBP will bring together Stagecoach Manchester, the principal operator along the corridor, Manchester City Council, Stockport Metropolitan Borough Council, TfGMC and its executive body, Transport for Greater Manchester, in a formal partnership. The scheme will work to improve services by securing a commitment from the partners to maintain investment in infrastructure, such as bus lanes and stops, and to work together on congestion and traffic management issues.
Giving his reaction to the news, Chris Bowles, Stagecoach Manchester managing director told CBW: "Stagecoach has been in discussions for some time with the authorities on developing this Partnership Scheme and we welcome its approval and impending implementation.
"The congested and unpredictable conditions on the A6 corridor present many difficult and complex challenges to running punctual bus services and these can only be solved in partnership. We hope the commitment of all the parties will result in a higher quality of service in the future."
A number of other operators which run services in the SQBP scheme area only use part of the route or only run a limited frequency on it, will still be able to use the improved facilities, but will be exempt from the other conditions of the SQBP. The SQBP will start on April 1, 2012 and will run for an initial period of five years, until March 31, 2017.
Cllr Andrew Fender, chairman of TfGMC, said: "The Manchester to Hazel Grove link is one of the busiest bus routes in the UK, making the service provided by bus operators important to a large number of passengers. The introduction of an SQBP along this popular route will provide a quality guarantee to passengers in a number of areas, including vehicle standards, security, service reliability and punctuality."