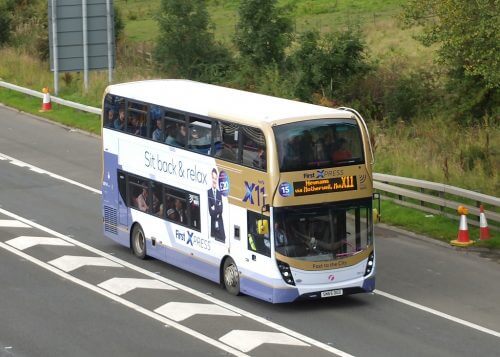 Council appears to favour car users and goes against statements in the Scotland-wide LEZ consultation, which states there will not be bus-only LEZs
Buses without Euro 6-compliant engines could be the first vehicles to be banned from Glasgow city centre when a new Low Emission Zone (LEZ) is introduced next year.
The bus industry has expressed frustration and warned that fares could rise and services could be cut as a result. Environmental campaigners have also stated that other vehicles should be included in the restrictions from the start.
The council is expected to impose quotas on operators that will progressively increase the proportion of buses in the zone required to have compliant engines. It plans to target the 800 buses which use the city centre first.
The council has given no indication of when cars, taxis and lorries would face restrictions. However, three quarters of diesel cars and taxis do not have the required cleanest engines.
The LEZ boundaries have not been set, but could cover an area bordered by the M8, River Clyde and High Street/Saltmarket, similar to the current air quality management area.
The Scottish Government is expected to help fund the retrofitting of bus engines so their exhausts can become complaint. The council claimed it would cost about £15,000 per bus.
LEZ restrictions would be enforced using number plate cameras, which already operate on some streets to deter other vehicles from using bus lanes. The council expects Traffic Commissioner (TC) for Scotland, Joan Aitken, to add conditions to O-licences to enforce the restrictions. If firms break their quotas for the number of non-compliant buses entering the zone, they could be reported to the TC, with sanctions including licence revocation.
Anna Richardson, the council's Sustainability and Carbon Reduction Convener, said: "People using buses have a right to be on clean buses and breathe clean air at bus stops. It will make the city centre more pleasant and make for a nicer public transport experience.
"If cars are restricted at a later stage, we are not saying you have to change your car, but you may not be able to bring it into the heart of town. The city centre is very accessible by cycling, walking and public transport."
CPT Scotland Communications Manager, Paul White, told CBW: "It is disappointing that the council has drafted this report without any consultation with CPT or bus operators.
"We have been very involved in the discussion around air quality and support LEZs, but we did not find out about Glasgow City Council's stance until it was published. The report has been published without knowledge of the funding that will be available or the guidance on which vehicles could be exempt – they've jumped the gun.
"The Scottish national consultation document on LEZs states clearly that there will not be bus-only LEZs. The council's comments on car users are also worrying as it appears that it has turned the transport hierarchy on its head, which could undermine the bus industry.
"We thought there would be discussions with the council from the start and that the LEZ would form part of a package of measures to help tackle air quality. In Glasgow, journey times are up 13% on five years ago and the city has 10,000 car parking spaces. There are measures the council could take to limit car access instead of just targeting buses.
"Any air quality policy which drives out the bus is a failure. The council needs to compare emissions on a per-passenger basis, instead of vehicle-to-vehicle."
First Glasgow Managing Director, Andrew Jarvis, told The Scotsman: "We are fully supportive of the Scottish Government's plans for LEZs and we believe improving air quality can be best achieved through working in partnership with Glasgow City Council and other partners and stakeholders.
"However, we are deeply disappointed that the city council's proposals focus only on bus, which is the one form of road transport capable of reducing congestion and improving air quality on the city's roads, given that one bus can absorb the people from 75 cars.
"In particular, this bus-only approach is in stark contrast to the current Transport Scotland consultation, Building Scotland's LEZs, which specifically states that 'bus-only LEZs are not being proposed in this consultation for any location in Scotland.'
"Our disappointment continues with the lack of engagement and consultation surrounding these specific proposals."