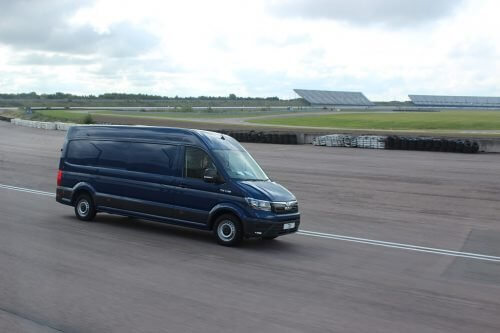 MAN Truck & Bus UK held a ride and drive event for its new TGE van range at Rockingham Motor Speedway at Corby last week.
The vehicle is built on the same production line as the new VW factory at the company's new £700m factory in Września, Poland, representing approximately 20% of the facility's output of 100,000 vehicles per year.
Initially launched at the CV Show at the NEC in April, the vehicle is available in weights ranging from 3.0-5.5tonnes, with two wheelbases, three roof heights and three vehicle lengths. Several different engine variants are available, ranging from 100bhp-180bhp, and a choice of manual or automatic transmission is available.
MAN highlighted how it was treating the van in the same way as its larger commercial trucks, buses and coaches, offering the same aftersales service. It highlighted how it was progressing from larger vehicles to smaller ones, rather than from cars and vans to trucks and buses.
At the event, visitors had the opportunity to drive several variations of the van, with front-wheel drive, rear-wheel drive and all-wheel drive options present in several different weights. There were also demonstrations of the onboard safety systems available, including sidewall assist, semi-autonomous parking and trailer parking assist.
The company also shared detailed on specification upgrades available on the range, including LED headlight upgrades and a variety of driver seats, and provided a virtual reality experience, where press, builders and potential customers could examine the vehicle close up in several configurations through a VR headset.
The vehicle will initially be available as a panel van, with additional van configurations gradually being rolled out throughout 2018. A minibus version of the TGE is likely to arrive towards the end of next year, and several minibus converters have already shown an interest in the vehicle.