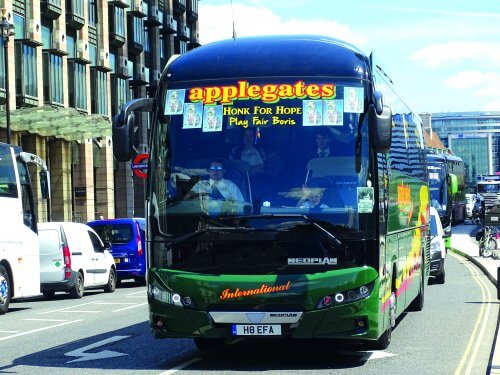 The nine-year-old son of a Gloucestershire coach operator has been nominated for an industry award after asking The Queen and the Prime Minister to save jobs and businesses in the sector. Theo Taylor, whose dad operates Applegates Coaches in Berkeley, has been recognised in this year's RHA Heroes campaign, which celebrates the best in the commercial vehicle sector.
Applegates Managing Director Ceri Taylor said: "Theo has been fighting tirelessly to save the coach industry during the pandemic, writing daily letters to Boris Johnson and the Queen asking for their support and he was determined to get answers. He spoke to radio and TV stations as he was determined to fight as hard as he could to save businesses and jobs within the industry. Theo has been helping to raise awareness of the plight of the industry, we all have a lot to thank him for. I can't wait to see him grow up and take over the family business one day. I am sure he will be amazing and a credit to the industry – as he already is!"
Nominations closed on Sunday 6 June and the winner will be announced on Friday 11 June.