A new ticket from megabus will offer selected grandparents free travel on its network for a year
Stagecoach-owned megabus says that grandparents have been hit particularly hard by the pandemic, according to research it has carried out, missing out on 49 hugs, 47 kisses, 40 conversations and 25 family meals with their grandchildren since the start of the crisis. The survey revealed that 74% of parents said they will be reuniting with grandparents now that restrictions are lifting and older generations have been vaccinated, with almost half admitting they rely heavily on the support from grandparents in raising their children. In response, to help families reunite megabus is launching a 'Grand Reunion' ticket to bring together long-distance grandparents and grandchildren.
The company will offer selected grandparents free travel to visit their family on its entire network for a year. The operator said that the campaign hopes to attract the 76% of grandparents who said they are desperately wishing for time with their grandchildren.
The operator launched the ticket with a short film showing the emotional reunion of real-life grandparents Nick Plowright and Louise Plowright and their grandchildren Archie and Ava, who haven't seen each other for over eight months. Louise said: "We've become very old since lockdown, we need them back in our life to give us that energy and make us feel youthful again. We cannot wait to spend time doing all the things we love and be around Ava and Archie's infectious enthusiasm once again."
Mark Venables, Managing Director of megabus, said: "With 61% of parents saying that missing grandparents has been one of the hardest things for their kids this past year, we're really excited to help grandparents get back on the road and travel with confidence to see loved ones across the UK through great value coach travel. The past year has been tough on everyone, but what's clear from the research is that grandparents play a vital role in their grandkids' lives. With our megabus coaches offering strict cleaning regimes and safety measures to keep everyone safe on board, we hope that the new 'Grand Reunion' will allow more grandparents to reconnect with their grandchildren, and we look forward to being a part of the journey as a more normal life resumes."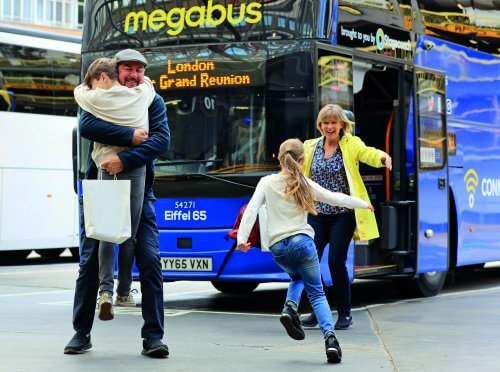 Grandparents Louise (55) and Nick Plowright (64), from Southampton, were emotionally reunited with their grandkids, Archie (10) and Ava (9) and daughter Jo Rollini, from Hemel Hempstead, after eight months apart thanks to the new megabus Grand Reunion ticket