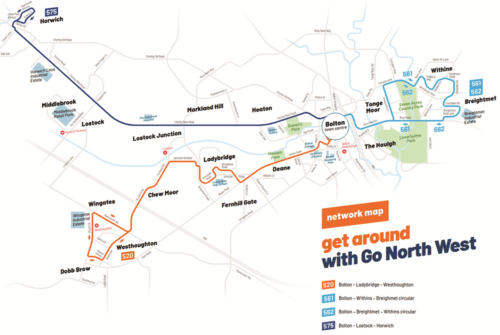 Manchester-based Go North West, part of the Go-Ahead Group, concluded what it said was a 'mammoth task' on Sunday 16 April when it launched five new bus routes and a brand new 'pop up' depot in the north of the city. Over the past eight weeks, teams from the company have been working to mobilise a temporary depot to cover five routes taken over from other operators in Manchester and Bolton at short notice after Transport for Greater Manchester (TfGM) asked the operator to step in and help when the previous operators pulled out of running the routes.
To ensure a smooth transition, 45 drivers were recruited, with over 1,500 hours of training delivered to enable the team to cover the new services. Forty buses have been brought in from other Go-Ahead bus companies across the UK to fulfil the service.
The routes taken over include the 163 between Manchester and Bury, along with Bolton local routes 520, 561, 562 and 575, which bring the company into the North West town for the first time, though it will begin running franchised bus routes across Bolton and Wigan as part of the 'Bee Network' franchised regime from September.
Go North West Managing Director Nigel Featham said: "We're really pleased to be able to step up to ensure the survival of these vital bus routes. The removal of these services would have seen many communities effectively cut off from the bus network, so we're really proud that we've been able to keep them running.
"As well as welcoming our new customers to the family, I'd like to thank everybody for bearing with us whilst we get things up and running. Some of your buses may look a little different than what you're used to for now, as we've worked to bring in buses from all over the country and recruited a whole team of new drivers to make sure you can continue to get to work, school, to shops and appointments."