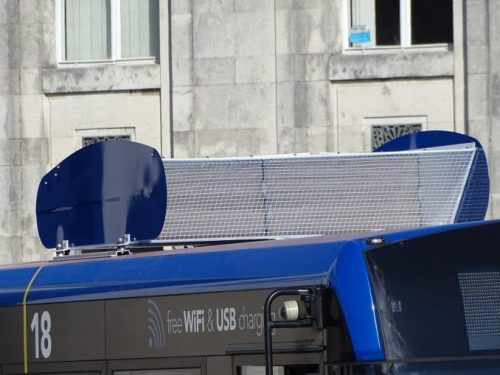 Go-Ahead says it is on track to cut carbon emissions by 25% in 2021. 2019 saw the operator record its lowest ever carbon emissions per vehicle mile, which dropped to just 1.15kgs, down from 1.28kgs last year. Go-Ahead says its continued efforts have seen emissions per mile fall by 35% over the past five years, with the business on track to record a 25% three-year reduction in all carbon emissions by 2021, a vital milestone on the road to a zero emissions fleet.
It revealed the figures in a sustainability report for the year to 1 July 2018, which showcases Go-Ahead's five sustainability strategy priorities – building thriving communities, tackling climate change, raising supply chain sustainability, improving air quality and boosting inclusion and diversity. The reduction in emissions comes, in part, thanks to the launch of innovative new services, such as Go-Ahead's new geo-fenced buses, which switch over to zero-emissions mode while driving through the centre of Brighton.
David Brown, Go-Ahead Group Chief Executive said: "At Go-Ahead, we are proud to be part of the solution in providing clean, green public transport for our passengers. This year has seen a number of firsts in innovative new services for passengers, and we are just as excited about 2020 and beyond.
"Delivering an entirely zero-emissions fleet by 2035 is an ambitious goal, but it's one that we're fully committed to. Buses and trains are a force for good as societies build towards a more sustainable future, and Go-Ahead is proud to be playing its part across the country."
Other sustainability achievements highlighted in the report are:
On target to have nearly 200 electric vehicles by the end of 2020;
Expanding Go-Ahead's fleet of air-filtering buses, which clean the air as they drive around Southampton;
Recognition of Go-Ahead as the first transport company to secure the ISO 50001 certification for best practice in energy management after carbon emissions were cut by 30% over three years and 70% over 10 years;
Completion of a climate change assessment, covering the implications of continued environmental deterioration across the business;
The launch of the 'Chatty Bus' programme, which aims to fight against loneliness and social isolation, through specialised support and awareness raising;
The continued roll-out of demand responsive services in Oxford and London, which cut congestion by deploying buses in response to the immediate needs of the community; and
Substantial investment in contactless payment systems, with 100% of all bus services now accepting tap-on payments.
The Group publishes sustainability reports for all its subsidiary operating companies which can be viewed at www.go-ahead.com/en/sustainability/performance-and-reports.html