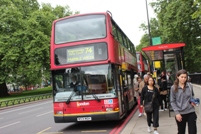 Finances on track as Group aims to make profits of £100m a year from running bus services in the UK within the next four years
The Go-Ahead Group (GAG) has said it wants to make profits of £100m a year from running bus services in the UK by 2015/2016. The group currently generates an annual return of £70m from a fleet of around 4,600 buses carrying some 1.7m passengers a day.
The Group said this will be achieved through a "combination of revenue growth driven by high quality services, innovation and marketing and cost efficiency."
Announcing its Interim Management Statement July 1 to October 17 last week, GAG said its trading had been strong, with no change to its full year expectations to June 29, 2013.
David Brown, Group Chief Executive of Go-Ahead, said: "I am pleased to report strong growth across our regulated and deregulated bus businesses, demonstrating the effectiveness of the Group's strategy of providing high quality, cost efficient and locally focused bus services.
"We believe there is significant potential to grow this core part of our business and today have announced a target to organically grow bus operating profit to £100m by 2015/2016.
"We remain committed to operating in the UK rail market and are pleased to report strong underlying growth in passenger revenue across our three franchises.
"Following the Department for Transport's announcement regarding the postponement of current rail franchise competitions and a review of the franchising process, Go-Ahead looks forward to working with the review team to help shape the future of UK rail franchising.
"The London 2012 Games took place during the first quarter of our financial year and I am really proud of the key role Go-Ahead played in helping to deliver a highly successful transport network for the Olympics and Paralympics.
"While we are encouraged by our performance in the first quarter, we remain suitably cautious about the medium term wider economic outlook."
Turning to the firm's deregulated bus businesses; once again GAG stressed the majority of underlying growth has been driven by fare paying, rather than concessionary passengers.
The yield from fare increases introduced in the last financial year to offset the reduction in BSOG and fuel cost increases is in line with GAG's expectations.
As anticipated, revenue growth in GAG's regulated London operations has been strong in the quarter as a result of increased mileage due to contract wins, the acquisition of the Northumberland Park depot from FirstGroup in March 2012 and contractual work for the Olympics.
GAG's rail division, which operates the Southern (including Gatwick Express), Southeastern and London Midland franchises through its 65%-owned subsidiary Govia, saw underlying growth in line with expectations in all three franchises in the quarter. Whilst the Olympics resulted in additional passenger revenue and passenger journeys, the profit impact was largely neutral, as anticipated.
Following the Department for Transport's decision to pospone awarding new rail franchise tenders and review of rail franchising, GAG said it awaits further information regarding the Thameslink bid process. Assuming the franchise process restarts before the end of its financial year, GAG anticipates rail bid costs of around £5m this financial year.
The Group said the outlook remains in a good financial position, with strong cash generation and a robust balance sheet, underpinning the dividend policy and allowing flexibility to pursue further value adding acquisitions. The expectations for the full year to June 29 2013 remain unchanged.