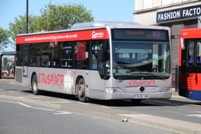 The prospect of a new voluntary bus partnership is to be discussed between the operators and the local authority
South Tyneside Council is to meet with representatives from Stagecoach and Go-ahead subsidiary Go North East, the area's two main bus operators, on August 20 to discuss agreeing a new voluntary bus partnership.
Top of the agenda will be discussions on the extension of current bus partnership arrangements in South Shields in advance of a "unified voluntary partnership".
South Tyneside Council has had separate Voluntary Bus Partnership Agreements with Stagecoach and Go Ahead covering South Shields since summer 2010.
The agreements cover the scope of the bus network, quality standards, bus stop and bus priority enhancements, marketing, passenger information and infrastructure.
Under the partnership, passengers have benefitted from a stable bus network, extended and enhanced services with improved local community links and fleet improvements representing a £5.5m investment in 37 new vehicles
Confirmation of the new partnership talks precedes an important special meeting of the Tyne and Wear Integrated Transport Authority this Friday (July 26) at Newcastle Civic Centre. The meeting will consider options on whether to progress a voluntary partnership agreement with bus operators for the Tyne and Wear region or to launch a consultation on a controversial Quality Contract Scheme.
Bus partnerships have already been endorsed by the independent, cross-party Transport Select Committee and in a detailed Competition Commission review of the local bus sector.
Tobyn Hughes, Nexus Deputy Director General, said: "Nexus will next week present the work we have done to develop a Quality Contracts Scheme.
"The outcome of negotiations we have held with bus companies to see if the same improvements can be achieved through partnership. It is then a matter for the ITA to decide what next steps to take."
Phil Medlicott, Managing Director of Stagecoach North East, said: "We welcome this renewed support for partnership working by South Tyneside Council. These talks bring the opportunity to deliver even better bus services to people in South Shields far more quickly and at lower cost to local taxpayers than an expensive, wasteful and time-consuming bus contracting system.
"We hope other authorities represented on the Tyne and Wear ITA will opt for this constructive partnership approach. Partnerships mean bus improvements can be delivered in months rather than years. Every day the ITA delays accepting bus operators' proposals means a longer wait for passengers to see further improvements. It will also mean far more money ends up being wasted on consultants and bureaucracy which should be invested right now in improving bus services."