PickMeUp in Oxford is growing in popularity, operator says
Go-Ahead Group has published its latest trading statement, covering the period from 30 December 2018 to 5 June 2019.
The operator says punctuality levels are high across all divisions, with regional bus passenger volumes up and full year expectations increasing in the London and international bus division.
Regional bus saw a 4% increase in revenue, with passenger journeys rising 3.5% (both excluding the impact of acquisitions).
The company says it has plans in place to improve yields while continuing to grow customer numbers, and adds that targeted campaigns aimed at younger passengers resulted in a lower yield during this period.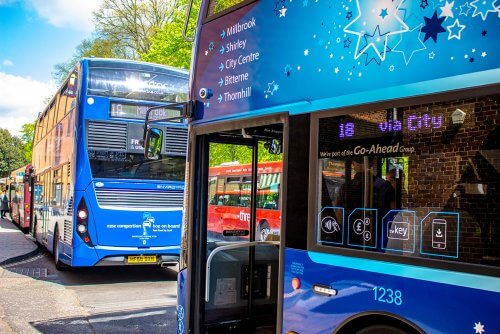 Meanwhile, in the London and international bus division, revenue fell 0.5%, mileage 4% and peak vehicle requirement 5.5%, excluding the impact of the Dublin bus contract.
The company says this was 'as expected,' due to contracts lost during the previous year. It expects to see growth next year as new contracts are introduced.
Go-Ahead Group Chief Executive, David Brown, said: "I'm pleased to report that we have delivered revenue growth in all three of our business divisions.
"This performance is driven by our commitment to continually improving services for our bus and rail customers and I'm delighted with our recent results in reliability and satisfaction levels.
"In bus, service performance levels in our London operations remain high resulting in continued growth in Quality Incentive Contract income.
"Service levels also remain high in our regional bus business, which recently achieved the industry's highest ever customer satisfaction score of 92%, with Go-Ahead topping the league table for punctuality and journey time.
"PickMeUp in Oxford is growing in popularity, with 25,000 people now registered to use our app-based service and over 130,000 journeys made since its launch in June 2018.
"On the back of this successful pilot, we have recently won a year-long contract from TfL across the borough of Sutton, in partnership with ViaVan.
"Our international bus operations in Singapore and Dublin are trading ahead of expectations. Our international development teams continue to work on contract opportunities in our target markets and there is also a strong pipeline in these areas."
You can read more News here: cbwmagazine.com/category/news