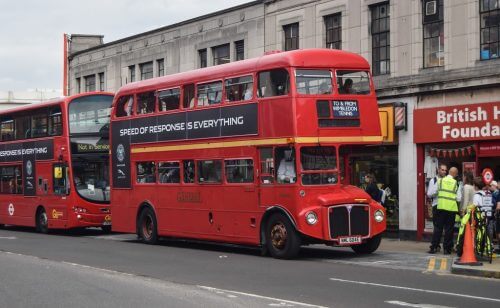 Operator once again provides transport for the world-famous Tennis championship
Go-Ahead London is once again providing special bus services to and from the Wimbledon Tennis Championships this year.
The buses link Central London and Wimbledon Town Centre with the Championships and have been operating on every day of play, from Monday, July 3 until Sunday, July 16.
The Southfields Mobility Shuttle Service, Route 839, operated from July 3-8, and July 10-16, offering a £2.50 single or £4.00 return.
The service has been running from Southfields Station every 10 minutes from 0900-1350hrs, then at 15-20 minute intervals until 1800hrs, where the frequency returns to every 10 minutes until 2230hrs.
From Wimbledon Tennis Aorangi Park, the service begins at 1000hrs and ends at 2300hrs, following similar frequency patterns.
On Sunday, July 9, the service instead operated every 20-30 minutes throughout the day until 2030hrs.
The Wimbledon Station Shuttle Service, route 840, has been operating at 10-15 minutes intervals beginning at 0620hrs. It operates from 0730 to 1900hrs on finals weekend.
Public Park & Ride service route 838 offered parking and fares for cars and minibuses at £15 and £20 respectively, with local fares for the bus only standing at £3.50 for a single and £5.00 for a return.
Vehicles have been operating from Morden South Thames College Park & Ride site from 0630 to 1950hrs, returning between 1200-2335hrs, a frequencies of around 20 minutes.
On finals weekend, the service from South Thames College instead concludes at 1400hrs, with return journeys running from 1600-2240hrs or close of play, whichever is earliest.
On Central London service route 739, buses have operated from Kings Cross, St Pancras, Euston, Baker Street, Marble Arch and Victoria, then direct to Wimbledon Tennis on all days except July 9, with a frequency varying from 20-30 minutes. Oyster Card holsters pay a discounted fare.
On finals weekend, buses will operate from Kings Cross at 0930, 1000, 1030 and 1100hrs, and half hourly from Victoria from 1012 until 1642hrs. Buses return from Wimbledon Tennis Car Park 1 at 1455hrs then every 30 mins until 1000hrs.