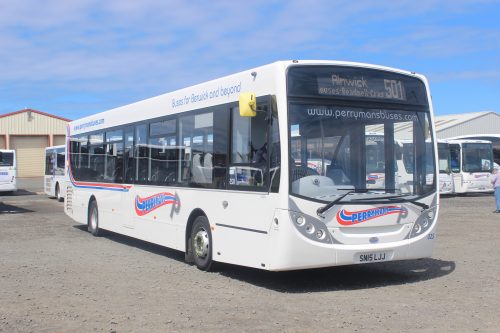 Borders Buses has announced plans to merge with Perryman's, Peeblesshire News reported.
The two firms which, are owned by the same parent company, West Coast Motors, are expected to merge from Monday, July 17. Perryman's buses will be rebranded in the Borders Buses red and cream livery over the coming months.
Claire Lark, Operations Manager at Perryman's, said: "It's exciting times and we look forward to rebranding the business as Borders Buses.
"The move to merge both brands makes perfect sense and will ensure we are being not just operationally efficient, but making full use of our combined resources too.
"It's also great news for our customers who can now enjoy the benefits of an extensive bus network and the use of transferable tickets on common routes."
To coincide with the merger, Borders Buses will introduce 10-journey tickets to its range, with four-weekly and annual tickets expected to be added when the company launches its mobile app in September.
Lee Young, Operations Manager of Borders Buses, said: "Since March we have worked closely with our colleagues at Perryman's Buses and look forward to the opportunities the rebranding creates.
"Over the past few months we have engaged with our customers and the communities we serve.
"I hope this move to extend our operating network and tailor our tickets around their travel requirements demonstrates that we are listening and are committed to delivering a first-class bus service in the Borders and beyond."