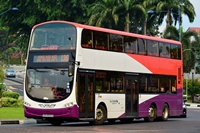 Ng Jian Yew reports on latest developments in Singapore
SINGAPORE: On September 4, Go-Ahead Singapore took over the first 12 routes in the Loyang package centred on Punggol bus interchange. The handover was smooth with several buses transferred from SBS Transit over the weekend continuing to operate under Go-Ahead. However, services were plagued by buses bunching and long headways. Some commuters were not pleased and vented their frustrations on social media.
Similar 'hiccups' occurred during the first few weeks after the handover of services to Tower Transit in May. As adjustments were made and employees got used to the new system, routes and schedules, overall performance on the routes improved.
Go-Ahead took over the remaining 11 services in the package from Pasir Ris, Changi Village and Changi Airport on September 18. On the handover day, routes 36 and 518 were diverted due to the Singapore F1 Grand Prix.
Go-Ahead Singapore is to trial an electric BYD K9 ebus. Registered in August, it's expected to undertake a six month trial although there has been no announcement yet as to when that will start.
The Land Transport Authority (LTA) in Singapore has ordered another 122 Gemilang-bodied MAN A95 double-deckers. Adding in the existing fleet including the demonstrator, there will be 199 of this type of bus on the roads after delivery is completed. Including 201 Enviro500s, that means SMRT has played a part in bringing 400 double-deckers to Singapore.
SMRT has undergone the most significant change in fleet size as a result of the 'negotiated contracts'. Over 100 buses have additionally been leased to it consisting all of the 60 MAN A95s ordered by the LTA in 2015, more than 20 Wrightbus-bodied Volvo B9TLs and 20 Mercedes-Benz Citaros. Ten of the MAN A95s featured USB ports by the sides of each row of seats, a first in Singapore's public buses.