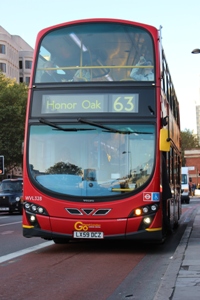 The strong financial position gives the group room for organic growth, says CEO David Brown
Go-Ahead Group is on target to meet its goal of £100m profit from buses – according its Interim Management Statement for the period from December 30 to April 24.
Deregulated bus has seen solid underlying growth in fare paying passengers of over 2%. This, the company said, has more than offset a decline in concessionary passenger volumes, largely due to adverse weather in the third quarter. The revenue impact of lower concessionary journeys was mitigated as the majority of concessionary revenue is fixed.
Including acquisitions, revenue has to date grown 9% and passengers journeys have risen 4%.
The regulated operations in London continue to perform strongly despite the expected slower growth in the third quarter as the firm laps the introduction of new contracts during the prior year.
David Brown, Group Chief Executive of Go-Ahead, said: "I am pleased to report a resilient performance across our operations, with all of our companies seeing growth in commercial revenue in the year to date.
"Our bus division continues to perform well in a challenging economic environment and we remain on track to achieve our target to organically grow bus operating profit to £100m by 2015/16. Our growth trends are sector leading driven by our high quality, locally-focused operations and our London bus business remains best in class.
"We are delighted to have been shortlisted to bid for the Docklands Light Railway, partnering with Colas Rail Ltd. They are an ideal infrastructure partner for us and, combined with our experience of operating in London on busy commuter networks, I believe we are well placed to deliver a successful bid.
"At the end of March the DfT announced its long-term plans for rail franchising. I am pleased the Government intends to restart the Thameslink franchise bid process in September this year and I welcome the opportunity to agree extended contract terms for London Midland to June 2017 and Southeastern to June 2018.
"Overall, I am pleased with the Group's performance and remain confident that we will deliver a full year result in line with our expectations."
As for the outlook, the Group said it remains in a good financial position with strong cash generation and a robust balance sheet, underpinning the dividend policy and allowing flexibility to pursue value-adding opportunities.