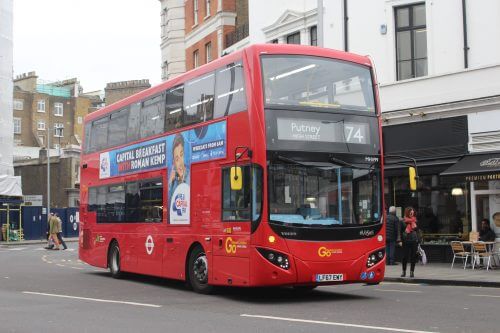 Go-Ahead Group has published its trading update for the period from 1 July to 28 November 2018, revealing growth in both passenger volume and revenue for the regional bus division.Like-for-like revenue increased by 3%, while the number of passenger journeys rose by 1.5%. One reason for the uptick in demand was the better summer weather, the company said.
Additionally, Go-Ahead cited the continued rollout of contactless payment as a reason for the rise in revenue, adding that it expects customers in East Anglia will have access to it by the end of the financial year. PickMeUp in Oxford has also grown considerably since it started in June, now having 15,000 registered users.
"We expect regional bus profit for the first half of the year to be lower than the same period last year but that this will be offset by a stronger performance in the second half, reflecting a contribution from EYMS and the impact of the severe winter weather in the comparative period last year," the report reads.
"Accordingly, for the full year, we continue to expect regional bus operating profit to show a slight improvement over last year."
Meanwhile, in London, like-for-like revenue increased by 0.5%, while mileage and PVR decreased 4 and 6% respectively.
Group Chief Executive, David Brown, said: "The Group has delivered revenue growth since the start of our new financial year.
"In bus, our London operations have continued to earn strong Quality Incentive Contract income through the delivery of good service performance. In our regional bus business, overall passenger volumes have grown although the trends remain mixed across the country.
"Positive momentum in our international strategy has been sustained with the award of a new rail contract in Norway, the start of bus operations in Dublin and a continuing good performance in Singapore.
"Our 'PickMeUp' operation in Oxford continues to grow and now has over 15,000 registered users, providing a new convenient service for our customers."