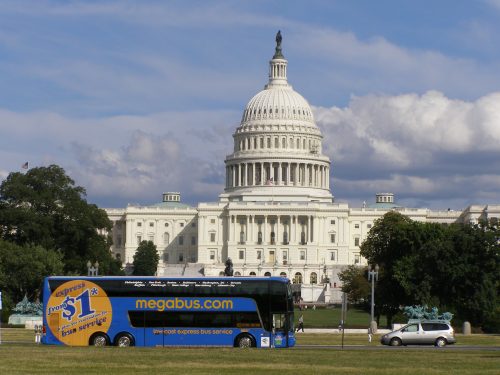 But UK Bus operations perform well, with operating profit outside London rising by £3.6mStagecoach has announced it's in talks to sell its US coach arm, after the group's half-year financial results revealed a £85.4m writedown for the North American business.
The group as a whole suffered a £22.6m pre-tax loss for the six months to 27 October – mainly as a result of the US division's struggles.
Like-for-like revenue in North America fell by 3%, with megabus.com North America's revenue shrinking 1.7%.
The operator blames the decline on 'a number of factors including increased competition in some of the markets in which we operate.'
Martin Griffiths, Stagecoach Chief Executive, said: "While we recognise the competitive challenges in some of our markets in the UK and North America, we are confident that public transport will be central to delivering Government priorities to grow the economy, connect people and communities, reduce road congestion and improve air quality.
"We are reviewing strategic options for the North America Division and that includes ongoing discussions regarding a possible sale of all or part of the business."
Despite this, Martin remained optimistic about the results, adding that the group has continued to perform above expectations: "We have delivered encouraging results at our UK regional bus business, where we continue to deliver high customer satisfaction.
"Targeted fleet and technology investment is helping to enhance operational delivery and improve cost efficiency.
"We continue to innovate across a range of areas including autonomous buses, contactless payment, data analytics and demand responsive transport."
The results reflect this; UK Bus (both regional and London) saw increases in revenue, while the regional operations also made a £65.2m operating profit – up £3.6m on last year.
Shares in the group climbed 23.2p after the results were announced last Wednesday.