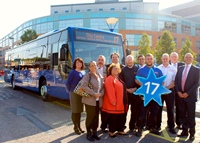 A new Bluestar 17 bus service began serving Southampton General Hospital on October 25.
The new route will serve the hospital every 15 minutes on Monday to Saturday and every 30 minutes on a Sunday, travelling from the city centre to Lower Brownhill via Southampton General.
Bluestar 17's timetable conveniently takes in standard visitor and appointment hours, with its first drop-off at the hospital just after 0500hrs on weekdays and some days' departure times as late as 2350hrs.
"Bluestar 17 will provide an essential service for local people – whether specifically on hospital business or going about their daily commute," said Bluestar Managing Director, Andrew Wickham.
"We developed the route based on customer requests and travel patterns – and early feedback indicates that the service will be warmly welcomed.
"Customers travelling to the hospital will be able to hop on to the number 17 up to every 15 minutes – ideal when the last thing they want to be stressing over is how they will get there."