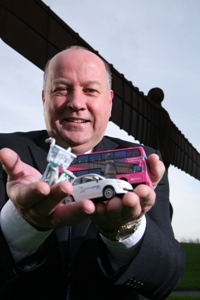 Go North East has launched the Key Lifestyle, a transport package which combines bus, car and bike travel with big monthly discounts.
The operator says it is the first of its kind, and their unique offer includes over 15% savings on bus travel, as well as optional free membership to a short-term car hire firm Commonwheels and Newcastle's self-service bike hire system Scratch Bikes.
Go North East's sales manager Stephen King said: "If you are one of the growing number of people questioning the expense of owning a car or are a customer currently buying a monthly bus ticket with Go North East, it makes sense to sign up to the Key Lifestyle package to get discounted prices and access to bus, car and bike travel.
"Go North East is working hard to provide the best deals for its customers, and the discounts which passengers receive with Key Lifestyle should make travelling by bus even more attractive. We are also in discussions with various retailers to negotiate exclusive offers to our Key Lifestyle holders so in the New Year everyone who has signed up to the package will benefit from even more savings."
With Commonwheels, customers can get access to cheap and easy car rental from Newcastle, Gateshead and Durham. Key Lifestyle customers will receive free membership worth £25, plus £25 of driving credit. Once registered, members can book a car over the internet or telephone and pick it up from a local parking bay.
Prices start at £4.25 an hour and 19p per mile. A minimum £5 monthly spend applies to Commonwheels membership.
If Key Lifestyle customers choose free membership to Scratch Bikes, they can hire a bike for as little as 20p for two hours. Once signed up, members can book their bike by text and collect it from one of 12 sites in Newcastle.
The Key Lifestyle package is available to everyone with The Key smartcard, which can be applied for online. The money comes directly out of the passenger's bank account every month saving them the hassle of having to get a new ticket every month, week or day.
CBW will be closely following the progress of this innovative, privately-funded initiative. Expect an update in the Spring.
For more information on Key Lifestyle, click here