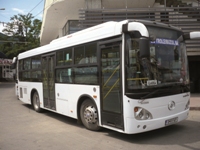 Imports cost 40% less than comparable current offerings from native manufacturers
CHINA Chinese-made Higer city buses will arrive in Australia within three months, at prices 40% below comparable current offerings from native manufacturers.
Importer WMC Group will also be offering a lead time of two months for the Higer buses, compared with up to nine months from rival bus manufacturers.
The Suzhou-based manufacturer already offers six different coaches across Australia, including the 7.6m Munro and the 12.3m Roadboss. They are all made in China and shipped to Australia completely built-up.
WMC Group will target operators looking to reduce their budget, with the new Higer buses to be priced at around AUS$350,000 compared with around AUS$485,000 for a similar Australian-made vehicle on an imported rolling chassis.
WMC general manager Shannon Taylor said the expanded bus range would turn Higer from one of the fastest-growing bus companies in Australia to one of the biggest. "We expect to go from 300 units a year now to a couple of thousand next year," he said.
Mr Taylor said Higer had already gone from eighth to first among non-city bus brands in Australia in just 12 months, and commented that attractive pricing drew customers to the new Higer buses, but so did technical advantages. He added: "Price is part of the story, not the whole story."
Higer offers both diesel and CNGpowered vehicles, with hybrid also a possibility.
The buses will be powered by Cummins engines with Allison transmissions, and are expected to go on sale from February or March.