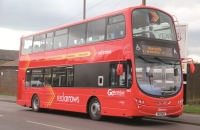 Industrial action by members of the UNITE trade union employed by Go North East (GNE) has been called off.
On March 11, the operator confirmed its drivers were to strike after receiving notification from the union on March 8. It said 970 of its 1,645 drivers had chosen not to support the strike, either through voting against it or not voting at all. However, following lengthy discussions between the company and the union on the night of March 13, union members are to be balloted on a revised pay deal.
The revised offer consists of three parts: a 2% increase backdated to July 1, 2012, a further 0.5% from April 1, 2013 and a final 2% from July 1, 2013. GNE said the increase in the revised offer is to be funded through productivity improvements which will be the subject of further negotiation.
Martin Harris, GNE Commercial Director, said: "We're pleased the union has decided to suspend its industrial action. This means our customers will experience normal services on March 18 and 23.
"We believe the offer to be better than has been agreed in any other bus firm in the region. It represents a good deal in the current climate. I welcome the fact the union is to recommend it to our drivers."
The result of the ballot should be known on March 26.