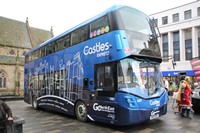 Go North East's X21 service has been enhanced with new buses and a new name – The Castles Express.
The operator is investing £10.5m in 47 new buses this year, with The Castles Express X21, previously known as The Pronto, benefitting from £2m of that investment.
The seven Wrightbus StreetDecks feature free WiFi, USB connections, power sockets, next stop announcements and leather seats throughout, with tables on the upper deck.
Go North East Managing Director Kevin Carr said: "This time last year we spent £7m on new buses and this year there is over £10m being spent.
"These significant sums of money demonstrate how committed we are to giving our customers the best possible services."