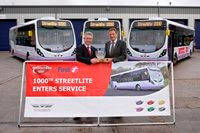 Wrightbus has reached a milestone in the production of its StreetLite vehicles, having delivered its 1,000th StreetLite door-forward bus.
First Bus welcomed the landmark to its fleet 2.5 years after taking delivery of its first StreetLite. The operator now has more than 650 StreetLites deployed the length and breadth of the UK. In the last two years, First Bus has placed orders for more than 450 StreetLite Micro Hybrid buses after working in partnership with Wrightbus to test, trial and develop the vehicles. First Bus' 2015 StreetLite Micro Hybrid order included Euro 6 versions of the vehicles.
The 1,000th bus produced was recently delivered to the new First Bus depot in Colchester and forms part of an order for 17 new StreetLite Micro Hybrids with Euro 6 engines for First Essex. To mark the occasion, Wrightbus presented a Waterford Crystal bowl with an engraved wooden plinth to Alex Jones, Managing Director of First Essex.
Alex Jones said:  "We're proud to welcome the 1,000th StreetLite bus to come off the production line at Wright's to our Colchester bus fleet. It's part of a delivery of 33 new vehicles, including 17 Euro 6 StreetLites, supporting our plans to improve our services and encourage passenger growth.
"The StreetLite has proved to be an excellent vehicle for First Bus, particularly the Streetlite Micro Hybrid, which we helped bring to market. Across the UK and here in Essex we've invested heavily in those vehicles, which have helped position us at the forefront of the bus industry, setting new standards of fuel consumption and supporting Local Authority agendas to improve air quality in our towns and cities.
"Test results show that running eight Euro 6 buses produces the same amount of certain exhaust emissions, including Oxides of Nitrogen (NOx) and Particulate Matter (PM), as running one bus with a Euro 5 engine."
Ian Downie, Wrightbus' Managing Director for Sales & Customcare, said:  "Our StreetLite range in both wheel-forward and door-forward formats was first launched in 2010.
"Five years on the range line up has become one of the best-selling single-decker buses in the UK market, offering even better fuel consumption and a higher passenger carrying capacity and keeping StreetLite at the top of many operator's shopping lists.
"Given the success of our partnership with First Bus in bringing the Streetlite Micro Hybrid to life, it is particularly appropriate that the First Bus team has taken delivery of the 1,000th door-forward StreetLite and is able to join us in marking this milestone."