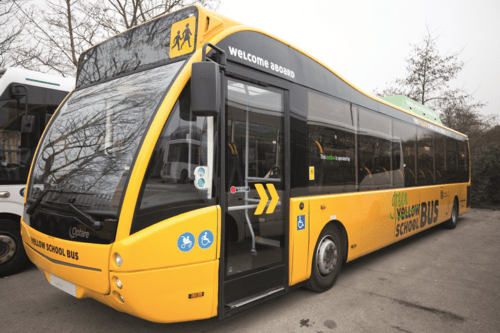 The latest round of Bee Network bus contract awards has seen Go North West and First Manchester appointed to run school bus services on phase two of the roll-out of Transport for Greater Manchester (TfGM)'s new Bee Network.
Go North West has been awarded three contracts and First Manchester six, covering a total of 11 schools in Oldham, Rochdale, Manchester and Bury, with franchised bus services beginning to operate from Monday 25 March next year. The first phase went live on 24 September, with the second round of contract awards beginning on Sunday 24 March, when Stagecoach, First and Diamond will take over some of the Bee Network services from current operators.
Anne Marie Purcell, TfGM's Bus Franchising Director, said: "There continues to be a high level of interest in the Bee Network bus contracts and we saw a strong response from operators to run school bus services. Regular, reliable school bus services are vital for young people getting to and from school and we made performance and reliability a key part of the contract award process to make sure that is the case.
"Both Go North West and First Manchester provided extremely strong submissions and we are looking forward to working with them over the coming months and years as the Bee Network continues to develop and we work together to provide the best possible bus services we can for everyone in Greater Manchester."
Go North West Managing Director Nigel Featham commented: 'We are delighted to be awarded additional work, and look forward to working closely with TfGM to deliver 'best of class' school bus transport. This adds to the large franchise work we already operate based at Bolton and Wigan depot. We have an exceptional team at Go North West and proud of the quality of services we provide for passengers."
Managing Director of First Bus in Manchester Zoe Hands added: "First Bus is delighted to be awarded these franchise contracts for school services in Greater Manchester. We look forward to working with the Mayor and Transport for Greater Manchester in building the Bee Network and are thrilled to be serving new communities in the region. Our absolute priority will be to deliver a reliable service in partnership with TfGM with a best-in-class, customer-first approach."