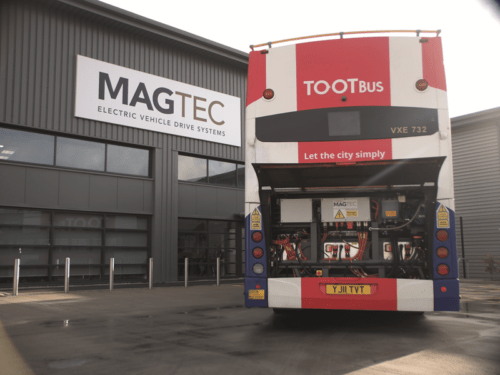 The Rotherham-based firm will provide its 280kWh battery system to help meet the operator's target of a zero emission fleet by 2030
RATP Dev subsidiary Tootbus has engaged Magtec, a specialist designer, manufacturer and integrator of drive systems for commercial electric vehicles, to repower 15 open-top double-decker buses for its sightseeing services in central London as part of its commitment to reduce the environmental impact of its operations and promote green tourism. It aims to have a fully electric fleet by 2030, in line with the Mayor of London's net zero ambitions for the capital.
Under the agreement, Magtec will equip the tri-axle buses with new electric drive trains including its 280kWh battery system, which it says will be ample for the 70 miles per day each bus covers in the capital.
Managing Director of Magtec Andrew Gilligan said: "We are delighted to be strengthening our partnership with Tootbus to support its drive to green services and provide an even bigger 'wow factor' for its customers. As a UK company, we are proud to be flying the flag for UK manufacturing and helping to improve air quality in the heart of our capital city."
Magtec has previously supplied an electric drive system for one of Tootbus' vehicles. Gavin Brooking, Managing Director of Tootbus UK, added: "This agreement enables us to continue to deliver on our commitment to a truly sustainable service. We are the first clean energy sightseeing bus company, and remain driven to push the boundaries of green tourism at an accelerated rate – indeed our recent Sustainable Tourism Barometer showed that operators need to make it easier for consumers to adopt greener options. Magtec's market-leading battery technology will underpin these efforts."
Founded in 1992, Magtec's main market is trucks but it has a growing presence in other sectors including rail, UK land defence, bus re-powers and special applications such as airport airside, marine and mining operations. It is based in Rotherham, South Yorkshire.