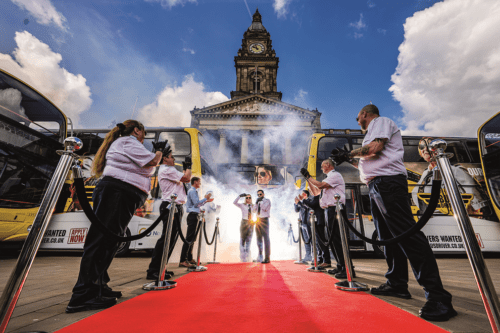 Go North West has launched its Elite Bus Driver Academy as it looks to hire up to 300 drivers following its Bee Network contract award
Go North West has begun what it says is Britain's biggest ever recruitment campaign for bus drivers in preparation for Greater Manchester's Bee Network. The company plans to hire up to 300 drivers through its newly created Elite Bus Driver Academy. The successful applicants will operate routes in Bolton and Wigan.
Under the theme of 'Be an Elite Driver,' the campaign uses fighter pilot-style uniforms and imagery, and makes existing drivers the stars. Images of eight drivers will be emblazoned across GNW buses, bringing to life what the firm says is the prestige of being a driver and the great careers on offer. Applicants will undertake an intensive six-week training programme, and positions are open both to existing licence holders and to those who have not yet obtained a PCV licence. Furthermore, Go North West is to offer longer term apprenticeships combining studying with hands-on driving.
Go North West says it has quadrupled the size of its training team in anticipation of an influx of new recruits for what it says will be an exciting new chapter for bus travel.
The drivers will operate Greater Manchester's new Bee Network services in Bolton and Wigan – the first two areas to be franchised under Greater Manchester's new regime – from September. Nigel Featham, Managing Director at Go North West, said: "This is a ground-breaking recruitment campaign to match the huge scale of change that we'll be helping to deliver in Greater Manchester's public transport. We've already had lots of interest in driving the new Bee Network buses and we're expecting thousands of applications. We're very proud to be pioneers in delivering these bus services for Greater Manchester."
Mayor of Greater Manchester Andy Burnham commented: "Bus drivers play a pivotal role in helping people all over Greater Manchester get to where they need to go. The Bee Network is set to transform public transport here and it's great to see this huge recruitment drive taking place, as we prepare for the launch in September, and the creation of hundreds of jobs for local people.
"There's no better time to get involved in transport, so I'd encourage anyone who's thinking about becoming a bus driver to get on board with us."
Once the new contracts start, Go North West will operate more than 500 buses from Bolton, Wigan and from its existing Queen's Road depot in central Manchester.