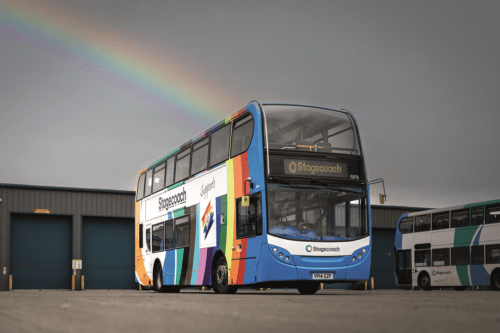 Stagecoach West says it was proud to show its support for the LGBTQ+ community as one of the sponsors at this year's Pride event in Oxford, which took place on Saturday 3 June.
At the event, Stagecoach promoted inclusivity and diversity within its workforce as well as the wider community. Making its debut at the event was the bus operator's Pride bus, newly wrapped in the colours of the Progress Flag, which represents marginalised LGBTQ+ communities. The bus was parked at the city's Bonn Square as a colourful backdrop to its Pride parade.
Staff were also in attendance representing Stagecoach in the city's Castle Square market giving visitors the chance to find out more about their local bus services and win prizes.
Stagecoach said that its sponsorship of Oxford Pride and its Pride Bus are visual demonstrations of its commitment to supporting the LGBTQ+ community as well as member of that community within its own business. The operator has a number of 'employee networks' available to staff members, which were introduced to educate and promote causes within the organisation and help to create a more inclusive workplace, giving employees a bigger voice in the future of the business.
Managing Director of Stagecoach West Rachel Geliamassi commented: "We're delighted to be a sponsor at this year's Oxford Pride and I hope it's a wonderful event for all involved. As an inclusive company it's important that we show our support of the LGBTQ+ community and let everyone know that they are welcome and valued."
"Our employee-led networks have been incredibly successful, giving members the freedom to push boundaries, encourage change and support colleagues – all the things that make Stagecoach such a great place to work."