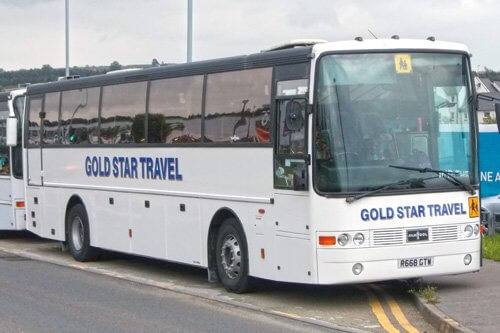 Traffic Commissioner's office admits some liability for not picking up on the issue sooner as operator is judged to have lost professional competence
Goldstar Travel of Newtown, Powys, has had its O-licence revoked by Nick Jones, Traffic Commissioner (TC) for Wales, after director Howard Bryn Williams was found to have lost his professional competence, the County Times reported.
The operator had been providing transport for around 250 school children in the Newtown and Llanfair Caereinion areas.
A Public Inquiry (PI) was held at Welshpool Town Hall, after a DVSA report revealed that maintenance was 'far below' what was required, with a prohibition rate three times the national average.
The DVSA report made reference to the fact that Goldstar's maintenance provider indicated that although it had full facilities, no roller road brake tests were carried out, with none were requested. The operator responded that he wasn't asked to do them, though the TC pointed out that it is the responsibility of the operator to ensure vehicles are safe.
The PI heard that Goldstar had not had a transport manager in post for over three years. In March 2013, Simon Haywood applied to be the nominated transport manager, but this was never confirmed.
The TC admitted: "In fairness to the operator, there was a failure in my office as checks should have been made with the EU register and the Intelligence Unit, with a report and decision on Simon Haywood's suitability. That didn't happen and some fault lies with my office.
"Though the operator is not solely at fault for the lack of a transport manager for over the full three years period, nonetheless the operator still has a duty to have a transport manager and he didn't have one or pay for one for over three years."
Simon Hayward had no adverse findings made against him, as he was never a transport manager on the licence and was not paid to undertake the role.
While it was the operator's first appearance at PI, the severity of the failings meant that the licence was revoked, with effect from 2359hrs on October 21, 2016.
However, professional confidence was the only grounds considered for the revocation, with the TC noting that Howard Williams had suffered a stroke in December, 2015, and may as a result be less capable than he was previously.
The TC said: "It is evident to me that the operator is an honest individual but he simply doesn't have the necessary professional competence.
"He is 66 years old and has accepted that he should retire. I give credit for this being his first public inquiry and it seems that he may well have been a competent operator in the past.
"I could make findings on a number of grounds set out in the call up letter but, in terms of proportionality, I feel that it is necessary to consider one ground only – namely professional competence. This is accepted by the operator."