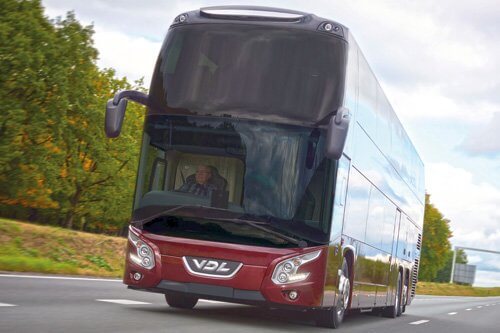 During Euro Bus Expo (EBE) this week, VDL Bus & Coach will present the eagerly-awaited first right-hand drive (RHD) version of the Futura FDD2 double-decker coach.
As reported in CBW at the time, the left-hand drive variant was launched at Busworld Kortrijk last Autumn.
This example at the show, with a length of 14.1 metres, will be delivered to Galleon Travel of Essex in late November 2016.
Karl Moseley of Moseley, distributor of the VDL Futura product range in the UK, said: "We are proud to offer the latest member of the Futura family to operators in the UK and Ireland. "We are sure it will establish itself at the very top of its market segment."
VDL said the interior of the Futura FDD2 is characterised by round corners, good workmanship, modern, light colours, lightweight materials and spacious standing heights on the lower and upper decks.
The VDL Futura FDD2-141 for Galleon Travel utilises a 86+1+1 seating layout. Every seating location has a USB connection. In the lower deck and upper deck, there are two video monitors, able to display digital TV and coupled to a DVD player.
The coach includes a fully furnished and fully equipped kitchen.
The stand occupied by VDL Bus & Coach and the affiliated Moseley companies at EBE is A80, located in hall 5 at the NEC. The Moseley dealerships are Moseley PCV at South Elmsall; Moseley in the South at Wellington, near Taunton; and Moseley Distributors at Airdrie, near Glasgow.