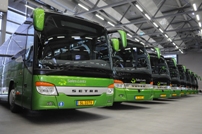 Field trial operator orders latest coach tyres for 22 new vehicles
Following the launch last autumn of its new dedicated coach tyre, Goodyear has announces a major sales contract with bus and coach operator Sales-Lentz. The Luxembourg-based company, which was involved in field trials of the new Goodyear coach tyres, has just brought in to service 22 new vehicles equipped with the new Marathon Coach and Ultra Grip Coach tyres. The reasons for choosing the tyres include the mileage performance they offer which is down, to a great extent, to the asymmetric tread pattern of the Marathon Coach tyre.
The vehicles ordered include coaches for touring, buses for operation across Luxembourg and buses for local operations. Having been delivered at the end of December 2012, they have now entered service. Both Goodyear Marathon Coach and Ultra Grip Coach tyres are fitted on the new vehicles, with the Ultra Grip Coach winter drive tyres mounted on the drive axles. During winter the front axles will be fitted with Goodyear Ultra Grip WTS winter steer tyres. During summer Marathon Coach tyres will be used. The vehicles employ either 295/80R22.5 or 315/80R22.5 tyres.
Sales-Lentz was one of the coach operators working with Goodyear on the field trials of the new Marathon Coach tyres and Ultra Grip Coach winter tyres prior to their introduction.
"We know from the experience we had from the field trials the new Goodyear coach tyres give excellent performance," said Jos Derkum, Technical Director of Sales-Lentz. "Our main priorities when purchasing tyres are safety and price. The new Goodyear coach tyres combine both characteristics, particularly with regard to the mileage we expect from them, which will help us keep down our operating costs, without compromise on safety factors for our passengers and drivers."
Marc Preedy, Director of Commercial Tyres at Goodyear Dunlop in the UK, said: "The decision by Sales-Lentz to order their new vehicles fitted with the Goodyear coach tyre is a fabulous endorsement of this new product, given their involvement in the field trials prior to its launch. The tyre is now available in the UK and we look forward to seeing its roll out among coach operators. We are confident we have brought something new and innovative to the coach market which meets its bespoke needs."