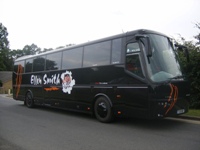 Ellen Smith Tours has announced a commercial agreement with Swans Travel and has moved its Head Office function to the premises of Swans Travel on Broadway Business Park. As part of the agreement Swans Travel will maintain all Ellen Smith vehicles.
Paul Targett, MD of Ellen Smith Tours, said: "Swans Travel coaches will undertake all our additional work with immediate effect. It is our intention that, as we sell or dispose of vehicles, Swans Travel will provide vehicles for more and more of our tours and excursions."
From Swans Travel, Kieran Swindells, MD, commented: "We have already operated a number of tours for Ellen Smith. Paul has advised me the reports from his customers are excellent, as I would expect from our team of drivers. We operate a fleet of modern Mercedes Benz Tourismos which are ideally suited to UK tours and excursions. We have new deliveries arriving throughout this year, of which an appropriate number will be liveried in Ellen Smith distinctive black livery and instantly recognisable tiger logo."
Both Ellen Smith and Swans Travel stress this is a working agreement and there is no change in ownership of either company.