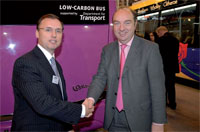 Funding also earmarked for Bristol BRT and Manchester Cross City Bus
A third round of Green Bus Fund (GBF) of £25m was announced in the chancellor's Autumn Statement last week, as was funding for the much-awaited Bus Rapid Transit scheme in Bristol and for Manchester Cross City Bus.
Road and rail announcements dominated the transport share of funding, with the go-ahead for 35 road and rail projects across England and the average rise in regulated rail fares capped at 6% – 1% above inflation – in January. Meanwhile, the planned 3p fuel duty rise in January was temporarily scrapped with the rise to take place in August.
Transport Minister Norman Baker MP, said: "I have been up and down the country meeting with bus operators and manufacturers and one of the things they have consistently been asking for is another round of the GBF. I am therefore delighted to announce they have got one.
"Great British buses have always been attractive ways to get around, and Britain is fast becoming a world leader in clean, green bus manufacturing. This new money will help the industry create even more skilled jobs and get our economy growing."
The GBF extension was warmly welcomed by Jim Sumner, CEO bus manufacturer Optare, which provided 150 of the 540 buses enabled by the previous two rounds of funding. "Everyone in the bus industry – operators and manufacturers alike – have been calling for the government to build on the success of its GBF initiative which has significantly stimulated the use of low emission vehicles," said Sumner. "So it's great news our views have been listened to and this substantial additional funding has been made available.
"This initiative has raised the level of demand from UK bus operators for low carbon buses and enabled companies like ours to accelerate the development of this technology. On the back of rising UK demand we have also been able to take this technology, and our fuel efficient buses into international markets bringing much needed overseas revenues into the UK economy."
Bus Users UK also welcomed the announcement but noted measures to ease the pressure on motorists are not reflected by similar moves for bus passengers. "While fuel duty for cars is frozen, there is no change in the decision to reduce BSOG," said general manager Stephen Morris.
"Every car journey saved by someone using a bus contributes to a reduction of carbon emissions, so making buses an even greener choice is welcomed. And hybrid buses are appreciated by bus users for their quieter and smoother running as well as for their lower emissions."
Welcoming funding for bus schemes in Bristol and Manchester, Stephen said: "Bristol's BRT scheme and a new south Bristol road link with extensive bus priorities will both bring substantial benefits to travel in the city, which has serious traffic congestion problems.
Meanwhile the £54m Manchester scheme will open up new cross-city journeys and will bring improved journey times and greater reliability to services in three major corridors for a fraction of the cost of one light rail line."
The Ashton Vale to Temple Meads BRT scheme will cost £50m, with £35m coming from government and £15m raised locally. The plan is to start building work in June 2013, with completion likely in July 2015. Before work starts the government will have to approve a planning application and a public inquiry is also likely. The Manchester Cross City scheme will include a direct bus link between Salford and South Manchester for the first time, and a section of Oxford Road will also be closed to cars as part of Manchester City Council's "green corridor" plan. The scheme, developed by Transport for Greater Manchester (TfGM) with Manchester City Council, Salford City Council and Rochdale Metropolitan Borough Council, will provide a package of improvements along three major bus routes.
Meanwhile, Campaign for Better Transport's Stephen Joseph, director of Campaign for Better Transport criticised the government opting for 'some dirty big road schemes': "What's really needed is tackling the backlog on local road maintenance and smaller transport projects to make best use of what we have, but the government has cut funding in those areas."
For further details about hybrid buses, read CBW's in-depth feature on p34-42 of this issue and to read the chancellor's Autumn Statement in full, visit www.hm-treasury.gov.uk