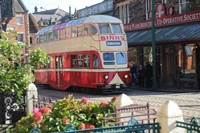 A County Durham tourist attraction which is a popular draw for coaches has announced its plans to expand have been give the go-ahead. Beamish Museum's plans to build a 1950s Town, Georgian coaching inn and a replica of a Weardale Farm have been approved by Durham County Council's (DCC) Planning Committee. It is hoped the £17m expansion will draw in an extra 100,000 visitors to the region and will see the the 350-acre open air museum offer overnight stays.
The 1950s Town plans include a cinema, houses, a café and aged miners' homes, which will provide a centre for people living with dementia, their families and carers.
The new development will demonstrate a time of huge change for the people of the North East and will ensure Beamish tells the story of a period still in living memory – just as was the case when the living museum was first founded back in the 1970s.
The 1820s expansion will feature a coaching inn, where Beamish's nationally-significant Georgian collections will be displayed, a windmill that was shipped from Sweden to Blyth and a replica of the home of Joe the Quilter.
Richard Evans, Beamish Museum Director, enthused: "We aim to start construction work at the end of this year – and we hope people will enjoy seeing all the new additions as they are being built. We've received initial support for the project with a £10.75m Heritage Lottery Fund grant.
"The decision by DCC was unanimous – and it's great to see the important economic and social value of Beamish being recognised and supported so clearly."
For details, call Beamish on 0191 370 4000 or visit www.beamish.org.uk .