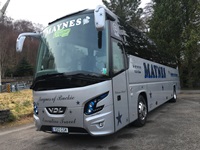 When up to 250 of the coaching industry's movers and shakers gather in the International Suite at the Piccadilly Hotel in Manchester on the evening of Thursday, April 21, they will be marking the eighth annual presentation of the UK Coach Awards (UKCA).
The awards, launched in their present form in the teeth of the recession in 2009, were further refined three years ago, and now focus solely on coach operators and their staff. "We felt that the tourism side was well represented by other award schemes," recalled UKCA Chairman Allan Edmondson.
"On the other hand, the operating side of the business was not well looked after. Therefore, we look for operational excellence, a range of technical and professional awards covering things like marketing, and – most importantly – on the industry's people: the front line and backroom staff who play a crucial role in delivering the services we provide every day."
That's where the focus on April 21 will lie – 16 trophies will be presented in an after-dinner show that will be compered by the BBC's ever-friendly and popular weather presenter Carol Kirkwood. Organisers of the evening have told CBW they have "some surprises" up their sleeves too – from a sparkling start to the evening through new features during the awards show to extra entertainment afterwards.
"I'm really looking forward to the evening," added Allan. "It's jolly hard work, but the reward is always written in the faces of our winners – not only of our Gold Awards on stage, but also the Silver and Bronze Awards presented later in the evening. They all get a cheer, the opportunity for business-enhancing local PR coverage and above all a boost from knowing that our independent expert judges rated them amongst the best in the land. That's a pretty good package by anybody's standards."
There are still a few tickets left, so come and celebrate all that's best in the UK coach industry. For details, visit www.ukcoachawards.co.uk for details.