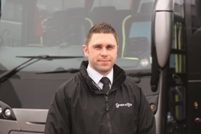 Grey's is only the 11th coach company to achieve dual certification for both Guild and CoachMarque
The Guild of British Coach Operators has accepted Grey's of Ely as a member after the Cambridgeshire family-run firm achieved 100% in both CoachMarque and Guild audits. This was carried out by external auditor Sue Viney from Fleet Risk Control, who provided the following feedback following the audits: "I am delighted to add that the audit report is now a combined report to include accreditation for The Guild of British Coach Operators.
"The Guild of British Coach Operators is an association which represents top quality coach operators who are dedicated to providing customers with a first class service. It has exacting quality standards and at my recent visit, Greys of Ely was able to demonstrate that it delivers in all respects. Two words spring to mind when I think about Greys and in particular yourself (Richard Grey) and they are professionalism and enthusiasm."
Guild Chairman Ian Fraser, who is also Operations Director at The Kings Ferry, said: "We're pleased to welcome into the Guild an awardwinning operator with such a reputation for quality."
Grey's of Ely, a family-run firm based in Witchford, has enjoyed some recent success in local business and industry awards. In April 2012, Richard Grey was named Coach Driver of the Year at the UK Coach Rally.
Richard said of joining the Guild: "2012 was a great year for Grey's and to join the Guild of British Coach Operators is truly the crowning achievement, we look forward to working with the Guild members to raise our standards and profile even further in 2013."
In welcoming Grey's, Ian Luckett, the Guild's Treasurer who is also a Director of Fareham-based Lucketts Travel, spoke of the benefits of Guild membership, saying: "The Guild provides an excellent forum for owners to meet to share best practice and to help benchmark their operations against some of the best operators in the coach industry. I look forward to Richard Grey playing an active role in the Guild."
The Guild was established in 1985 to promote and market the services of its members, all of whom commit to meeting the highest quality standards, assured by regular independent audits. Prospective members have to achieve a 100% pass before being accepted into the Guild. The Guild is also registered as a Driver CPC training centre, giving members access to a suite of courses specifically designed for the coach industry. Grey's will shortly start delivering Guild courses to its drivers, adding to the more than 3,000 training days Guild companies have already provided for their staff.
Guild membership currently comprises 23 operators across the UK. For more information, visit the newly revamped website at www.coachtours.co.uk