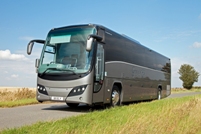 Renowned coach operator Greys of Ely is backing a campaign aimed at improving the safety of school children travelling on coaches.
Pressure group Belt Up School Kids (BUSK) used School Transport Week, which ran from September 24-30, to raise awareness about transport safety after two fatal coach crashes this year.
Greys, which is the first Cambridgeshire operator to have been awarded Simply Safe accreditation from BUSK, is lending its support to the campaign by writing to the head-teachers and governing bodies of all schools and colleges in the county to ensure they have a School Transport Policy which includes BUSK's suggested guidelines.
Grey's Managing Director, Richard Grey said: "Most schools cannot afford to employ a Transport Manager and all are under huge financial pressure but there is plenty of information available to help teachers and governing bodies check that the arrangements they have in place are fully compliant with the law and also satisfy the guidelines set down by BUSK."
BUSK Director Pat Harris added: "Parents trust and expect the school to hire the safest, not the cheapest coach company. BUSK believes we should not expect teachers to become transport managers and that parents should be prepared to pay a pound or two more on the cost of the trip to enable schools to consider hiring a coach for the going rate."
Visit the BUSK website at www.busk-uk.com