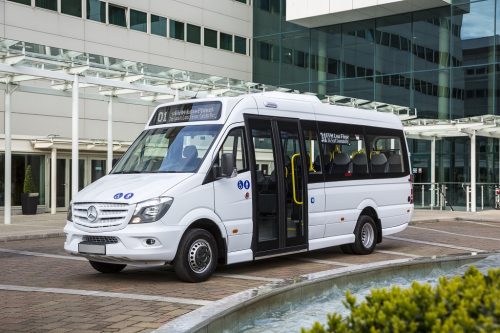 Hallmark Connections has taken delivery of a new Euro 6 Cityline 16-seater low-floor Mercedes-Benz Sprinter EVM's Sales office in Crawley, West Sussex.
The Sprinter is based on a Euro 6 516Cdi 163bhp common rail direct injection diesel engine, coupled to a seven-speed G-Tronic automatic transmission with Blue efficiency.
The vehicle is specified with a remote control Masats 120cm double leaf rapid sliding powered entry door. EVM Panoramic double glazed saloon windows are installed to both sides of the vehicle.
Climate control is provided by Mercedes-Benz in-dash air-conditioning, saloon heating and heater booster.
This vehicle comes with single/double EVM Kiel Ligero seats finished in standard fabric with leather headrests.