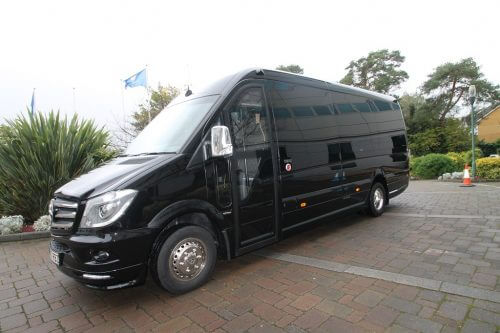 OMC Global (The Oxford Minibus Company) has now taken delivery of a new Euro 6 EVM Avantgarde Mercedes-Benz Sprinter.
The vehicle carries EVM Executive Class seats for 16 passengers, plus guide and driver, finished in real leather with reclining backrests, leather magazine pockets, fold-up tables with iPad channel on back of chairs and logos on the headrests.
The vehicle is powered by a Mercedes-Benz 519Cdi 191bhp engine, coupled to a seven-speed G-Tronic automatic gearbox.
A Masats Plug door and three-stage integrated steps with LED strip lights provide passenger entry to the minibus, while a full depth drop boot with fold-out flap and stainless steel protector provides space for luggage.
Mercedes-Benz in-dash Tempmatic air-conditioning combines with Eberspächer saloon air-conditioning, ducted through individual passenger service units, to provide climate control.
The vehicle has been provided with an Audio 15 upgrade radio/CD system, with iPod and Bluetooth inputs, for passenger entertainment. It is also specified with two 17" monitors, which are recessed in the ceiling to the front and the rear and connected to a DVD player incorporated into the dash.
As with all EVM minibuses, the vehicle is completed to European whole vehicle type approval, and comes with a full three-year Mercedes-Benz unlimited mileage chassis warranty.