Two Transdev bus operators in Yorkshire – The Harrogate Bus Company and Coastiiner – are offering free journeys to boost the evening economy in Harrogate and York as businesses join the Government-backed 'Eat Out to Help Out' promotion.
More than 100 restaurants, cafes, bars and pubs in the Harrogate district have signed up to the scheme, with 66 taking part in Harrogate itself – including the well-known Betty's Café Tea Rooms on Parliament Street.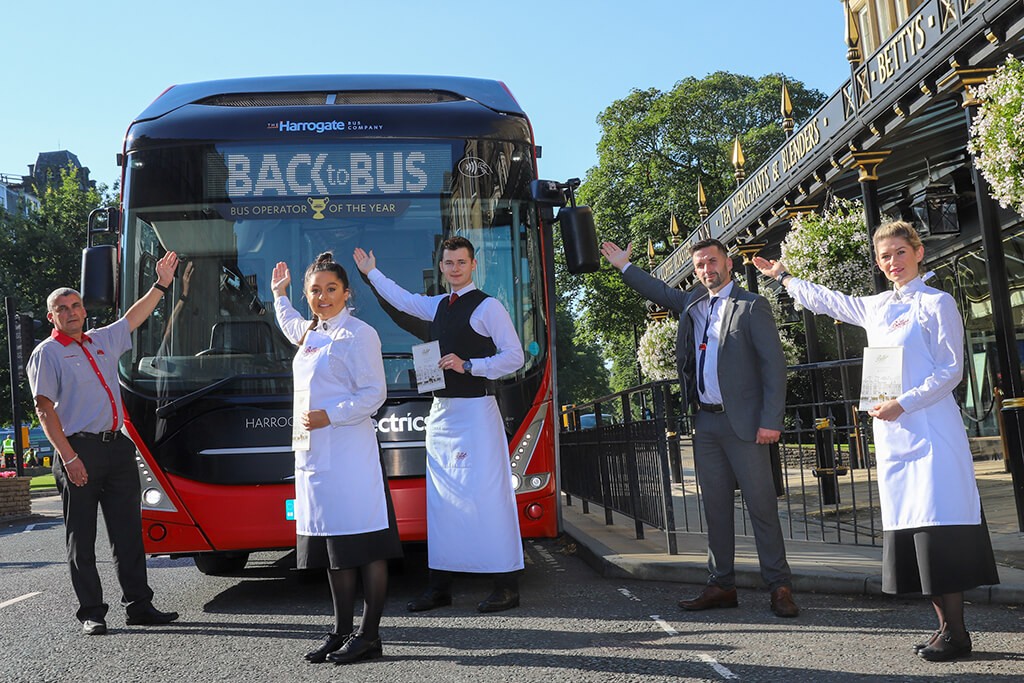 Meanwhile, over 100 restaurants, cafes and pubs in York are joining in – among them the historic 15th Century Black Swan Inn on Peasholme Green, just a few steps from the nearest Coastliner bus stop.
The Government is financially supporting hospitality businesses who join in with the promotion, which offers 50% off food and non-alcoholic drinks on Monday, Tuesday and Wednesday throughout August. Customers can get a maximum of £10 off food and drinks when they dine or drink in with no minimum spend, and the discount can be used in conjunction with other promotions.
In a further boost to the scheme, The Harrogate Bus Company and Coastliner are both offering free one-way tickets for use on their buses after 1800hrs on the three 'Eat Out to Help Out' evenings each week in August via the Transdev Go mobile app. It's hoped this will encourage more people to support locally-owned food and drink venues.
The Harrogate Bus Company's General Manager Frank Stanisauskis said: "Our buses play a vitally important role in Harrogate's economy, and we wanted to do everything possible to make 'Eat Out to Help Out' a success for local hospitality businesses who've been through an unprecedented time during lockdown.
"Our previous 'Sunday Freeway' free travel promotions did a lot to boost Harrogate's Sunday economy. We hope this new and exciting offer will give hospitality businesses every chance to make the most of this opportunity to bring customers into our town, while protecting our local environment."
Coastliner General Manager Ben Mansfield said: "All our customers need to do to get a free evening one-way journey ticket for any date when the scheme is running until is to request one by email to [email protected]. We'll then send a free single ticket to the customer's mobile device using our Transdev Go app – adding up to a handy 50% discount on travel compared with two single fares, to match the half price food and drinks offer."
Transdev's free travel promotion is being offered as part of its 'Back to Bus' campaign to promote the benefits of going by bus now that travel restrictions have eased locally and across the country.