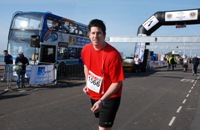 Hastings-based Stagecoach driver Jon Ellis ran his first half marathon at the seaside town's 28th annual event. Jon, 30 from Ore, Hastings, completed the route in 3:16:09 and raised over £300 thanks to sponsorship from friends and family for his local Rainbow Nursery.
Four of the company's buses were used to provide the park and ride service for the hundreds of runners and spectators on the Sunday and a double deck bus was positioned at the start line to be used as a base for the race director and members of the Hastings Lion Club which organises the event.
"We are delighted to have the opportunity to support this key event and congratulate Jon for his achievement," said Stagecoach Operations Manager Rachel Geliamassi.