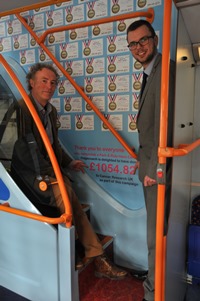 Stagecoach East buses have displayed graphics as part of the Park & Ride Heroes campaign, launched  on World Cancer Day (Thursday, February 4).
The campaign invited members of the public to nominate their personal cancer hero by completing a specially designed card available at the five Cambridge Park & Ride sites.
For every completed card deposited in drop boxes situated at Madingley Road, Newmarket Road, Milton, Babraham and Trumpington Park & Ride sites, Stagecoach East made a donation to Cancer Research UK, which alongside other collections and events as part of the Heroes campaign, raised a total of £1,054.
Andy Campbell, Managing Director of Stagecoach East, said:  "Most of us have been affected by cancer or know someone who has.
"This was a chance for people to nominate their Cancer Hero and let them know how special they are. We want to recognize individuals who have made a positive impact on the lives of others. This could include partners, parents, hospital staff, volunteers, survivors, siblings, and more. The aim is to share their stories in order to inspire others.
"We were proud to work with Cancer Research UK to promote awareness and support of World Cancer Day."
Campbell Ross-Bain, Operations Manager for Cambridge Park & Ride, said:  "We were proud to support Stagecoach in their latest campaign to raise money for Cancer Research.
"The idea of our passengers being able to nominate someone special to them and have their names displayed where they can be admired by others is truly inspirational."
Ali Orr, Local Fundraising Manager for Cambridgeshire Cancer Research UK, added:  "It was fantastic to have the support of local organisations to help build awareness and raise money for the incredible work going on in Cambridgeshire to beat cancer."