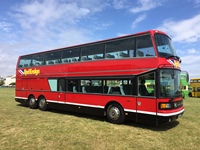 Father and son enthusiast team Philip and Gareth Blair have purchased and restored a 32-year old Kassbohrer Setra S228DT – one of only three survivors in the UK. The 'modern classic' has been finished in 1990s Red Ensign livery.
The vehicle was bought new in 1984 by Ebdons Coaches, registered 'A475HPE.' It has since passed through many hands and registrations, and in March this year it was purchased from Barker Bus in Harlow by Philip and Gareth and moved to Hampshire. This new addition brings their heritage collection, which is separate to their Xelabus Limited bus operation, to around 15 vehicles.
Speaking to CBW, Gareth said: "We'd been looking for one of these for a long time, and after seeing a note online about Peter Barker of Barker Bus in Harlow having one for sale, I had to go and have a look.
"It really wasn't in bad condition, it was mechanically fine – when we put it through an MOT after being off-road for two to three years, it passed with no advisories. The sound of the Mercedes V8 Twin Turbo is still phenomenal, especially once you get it moving."
Gareth sent the coach off to Eastleigh-based Hants & Dorset Trim, who he said were "very interested" in renovating the modern classic. The coach had a fair amount of work done to it down to a "magnifying glass level of detail," including repairing the roof and relining the boot space, which took around three months.
"The biggest challenges," Gareth commented, "were locating the correct 'Ensign Red' colour, and finding some original Kassbohrer Setra wheel trims.
"Luckily, through Facebook we were able to find some of the original Kassbohrer Setra stainless steel trims, and managed to get all the correct brackets and other parts from a factory in Germany. These were as expensive as they were heavy. We were lucky to find that Yates of Loughborough still had the code on file for the proper colour – although we couldn't use the lead-based paint that was used back in the 80s."
Asked why he wanted this particular coach – and this particular livery – Gareth reminisced: "My dad, Phil Blair, used to be Coaching Manager for Red Ensign. When I first saw one of these vehicles, I thought they were the Rolls-Royce of coaches – they had everything, even a working toilet.
"I really wanted to bring back that magic and sense of wonder, so I wanted to recreate a fond childhood memory."
Gareth and Phil recently showed off the coach at the South Sea Rally, where Gareth said: "It certainly turned heads. We had a lot of interest on Facebook to bring it along to show off at the South Sea Rally."
The father-son duo intends to continue showcasing the vehicle across the country, with plans to go to Showbus, the Buses Festival in Gaydon, and even a road trip up to Glasgow.