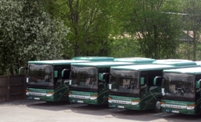 SWEDEN Daimler AG is delivering 65 Setra MultiClass 400 series vehicles to the Kronoberg region of Sweden, its largest ever order from the Scandinavian country.
The two-axle S 416 UL and threeaxle S 417 UL buses are for use on school and regular bus services. Delivery extends over a 10-year period and the first buses were delivered in June.
The order has come about as the result of a tender which has been won by four bus operators from the province of Småland in southern Sweden, with 50 of the buses going to the company Karlssonbuss i Vaggeryd and the subsidiaries Sven Carlsson Trafik, Moheda Buss and Grimslövsbuss. The remaining 15 vehicles are to be brought into service by the bus companies Gerts Busstrafik, Tingsryds Buss and Ryssbybygdens Buss.
Powered by Euro 5 engines featuring BlueTec technology, the vehicles are fitted with double doors at the rear point of entry, wheelchair lifts, CCTV and a modern infotainment system, among other features.
"We are extremely pleased to be able to support the bus operators with an attractive overall package, which in addition to a high technical specification for the vehicles also comprises a comprehensive service offering. The buses of the Setra MultiClass 400 series meet all of the requirements of the customers and will contribute to making the local public transport in the region more efficient, more comfortable and safer", explained Till Oberwörder, Director of Marketing, Sales & After- Sales of Daimler Buses.
In Sweden, sales of new and used Setra vehicles as well as the Omniplus Service Centre come under the umbrella of EvoBus Sverige A.B., located in Vetlanda in southern Sweden.