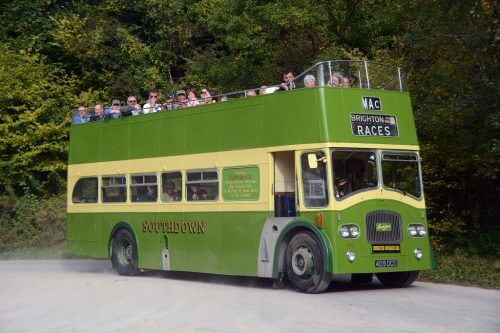 Banning tyres over 10 years old could bring to an end the operation of many heritage vehicles, argues a semi-retired senior industry manager
Retired industry Managing Director, Ian Manning, has written in forthright terms to the Department for Transport (DfT) about its proposed ban on the use of tyres over 10 years old for commercial vehicles. Ian, who owns two historic buses, was responding to the Department's Consultation on the proposed ban, which closes this Sunday (1 September).
"I write as a semi-retired director with 43 years' service in the bus industry who has worked in the municipal, nationalised and privatised sectors," Ian told CBW. "I am still active professionally on a consultancy basis.
"Many tyres of the sizes and specification required for historic vehicles do not actually come with date coding which is not required in their country of manufacture which is unhelpful and so the Department's proposals, if implemented, would actually render vehicles fitted with these otherwise perfectly (and currently) legal tyres unusable overnight.
"Almost all historic buses and coaches are fitted with tubed tyres fitted to 'split rim' wheels, as is the case with my own, and these have different characteristics to those researched by the TRL report that this consultation seems to largely rely on.
"Certain tyre sizes are now virtually impossible to obtain. However, I know of a glut of 2013 dated, but brand new unused tyres of one obsolete size. The DfT proposals will make it impossible for vehicle owners to profit from these stocks which they might otherwise choose to buy and carefully store for future use.
"Historic vehicles are driven much more slowly than modern generation vehicles with most having lower top speed capabilities anyway. This leads to less wear on the tyre. Speed, regular inspection and maintenance regimes and storage are all important factors in determining a tyre's safe life, indeed much more so than by arbitrarily specifying a 10 year maximum life.
"The fact that the insurance industry charges very modest premiums to owners of historic buses is a testament to the fact they consider their operation to be low risk.
"Should the government choose to implement any changes to the status quo then at the very least, all historic vehicles aged 40 years or over should be given complete exemption from any new requirements in respect of tyre ages, irrespective of whether for leisure or commercial use as the procurement difficulties affect both uses equally."
He added: "It would obviously be very helpful if one or more manufacturers could be persuaded to make new stocks of most of the more common tyre sizes but date marking them will add to their current reluctance to do so.
"I encourage all affected operators to respond to the consultation which closes at 2345hrs on Sunday 1 September."