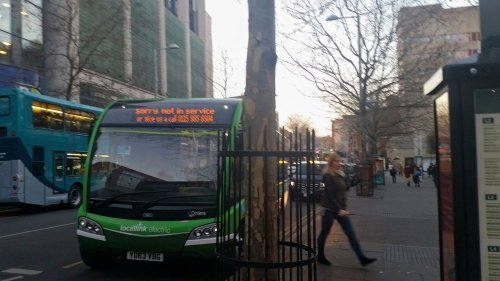 Nottingham Community Transport, Age UK, Bus Users UK, Lilian Greenwood MP and passengers have asked Nottingham City Council to reconsider proposals to cut back bus services in the area.
The council is due to meet on Monday 4 March to discuss the plans, which include the full withdrawal and a reduction in frequency of a number of Nottingham Community Transport's Locallink and Worklink services.
Passengers and industry organisations have criticised the plans, arguing that they will lead to:
Longer waiting times for buses;
A change of bus and use of two services, instead of one;
More crowded buses;
Use of other, more costly services;
Compromised safety and security (through longer walks to alternative services);
Curbing of choice; and
The mobility of more older and vulnerable members of the community being compromised.
Nottingham Community Transport has been given notice that council funding for the L22/L23 Locallink services will be withdrawn, with the last day of operation Saturday 1 June 2019.
Mick Tinkler, Chief Executive of Age UK Nottingham and Nottinghamshire, said: "A lack of access to transport can have a profound impact on the quality of life, health and wellbeing of those in later life.
"For those without access to a car, particularly those who are lonely or isolated, reliable public transport or community transport is essential for attending medical appointments, going to the shops and visiting friends, relatives and social groups.
"There seems little point in decimating local transport and then having to invest in services to deal with the aftermath.
"We would implore the council to make every effort to continue to fund Locallink services and other such transport initiatives that enable Nottinghamshire's older people to continue to access services and enjoy their later life."
Lilian Greenwood, MP for Nottingham South and Chair of the House of Commons Transport Select Committee told Nottingham Community Transport: "Nottingham City Council's main Government funding has been cut by three quarters since 2013 – from £127m to just £25m for the next year, at the same time the Government have been handing out extra cash to some Tory shires.
"Since the government began their austerity agenda, Tory shires like Surrey have gained £19 per household while cities like Nottingham have lost £529. I am however disappointed to see that Nottingham City Council is proposing these cuts.
"In 2017 the Transport Select Committee investigated community transport and as chair of the committee I heard how these services are viewed as a lifeline by those who rely on them, particularly older and disabled people.
"I've had a number of constituents contact me regarding the Castle Marina services, concerned that they're going to be completely isolated and left with no public transport service whatsoever.
"Nottingham has a great reputation for its award-winning public transport network; we must ensure that this continues and we continue to provide a first class service for residents and communities across Nottingham," she concluded.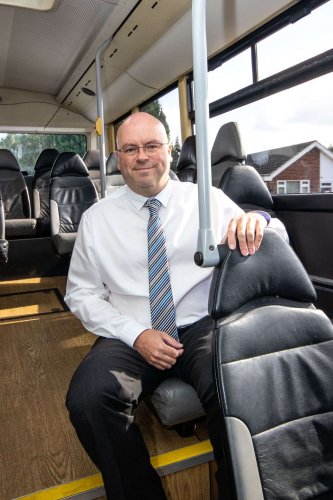 Claire Walters, Chief Executive of Bus Users UK, told Nottingham Community Transport: "While funding is in short supply across the UK, cutting Nottingham's bus services is a false economy.
"The Government's recent strategy on loneliness points to the hugely damaging health impacts – and costs – associated with social isolation. But buses offer the perfect solution, keeping people and communities connected and reducing social isolation.
"If Nottingham City Council really wants to save money, they should be investing in bus services, not cutting them."
Brian Wooding, Acting Chair of Nottingham Community Transport's Board of Trustees, said: "I was shocked to see the severity of the budget cuts proposed to the Locallink and Worklink services by the City Council. 
"It is saddening to realise how much it will affect those residents of Nottingham who can ill afford to find otherwise costly alternatives when services are lost or changed beyond practical use.
"We are aware that the City Council needs to save money, but the Workplace Parking Levy was introduced to support the Linkbus network, including services to help people get to and from work and these services are now under threat of being withdrawn.
"As usual it is the older, infirm residents, young families and those on low incomes that will suffer the most by these proposals."
"We have been inundated with telephone calls and emails from concerned passengers about the proposed cuts to Locallink services and the fact that very little information has been released," added Ian Combellack, General Manager of Nottingham Community Transport.
"As you can expect, it is also a very worrying time for our staff.
"The Council are saying that, where Linkbus services are proposed to be withdrawn, alternative services are available, however for most passengers this will require a change of buses which will be an added inconvenience.
"It is very concerning for some passengers who have told us that they will become prisoners in their own homes as they will be unable to afford expensive taxis, if the services are withdrawn. 
"We're back to the old scenario where a free bus pass scheme has been introduced, but there will be fewer services available for passengers to use."
The proposals
The services affected are summarised below.
Total withdrawals:
L3: QMC – Billborough – Strelley (replaced with a diverted L2 journey)
L7: Charlbury Road (replaced by 'some L5 journeys')
L22/23 Clifton – Silverdale – Ruddington – West Bridgford – Gamston Circular
W1 City – Lenton Lane Industrial Estate
W2 City – Crossgate Drive
Reduced frequencies:
L1 Silverdale – Wilford – City
L2 City – QMC – Glaisdale Parkway – Nottingham Business Park (with a diversion to compensate the withdrawal of L3)
L4: Radford – Beechdale – Aspley
L9: City – Mapperley  – Sherwood – Arnold
L11: Arnold – Bulwell – Bilborough – Beeston (shortening of service)
Route changes/merging:
L5 – Wollaton Park Estate – Castle Marina – City (route change)
L6 & L14 (to merge to extend the L14 service)
L6: Bulwell Hall
L14: City – Hyson Green – Bulwell