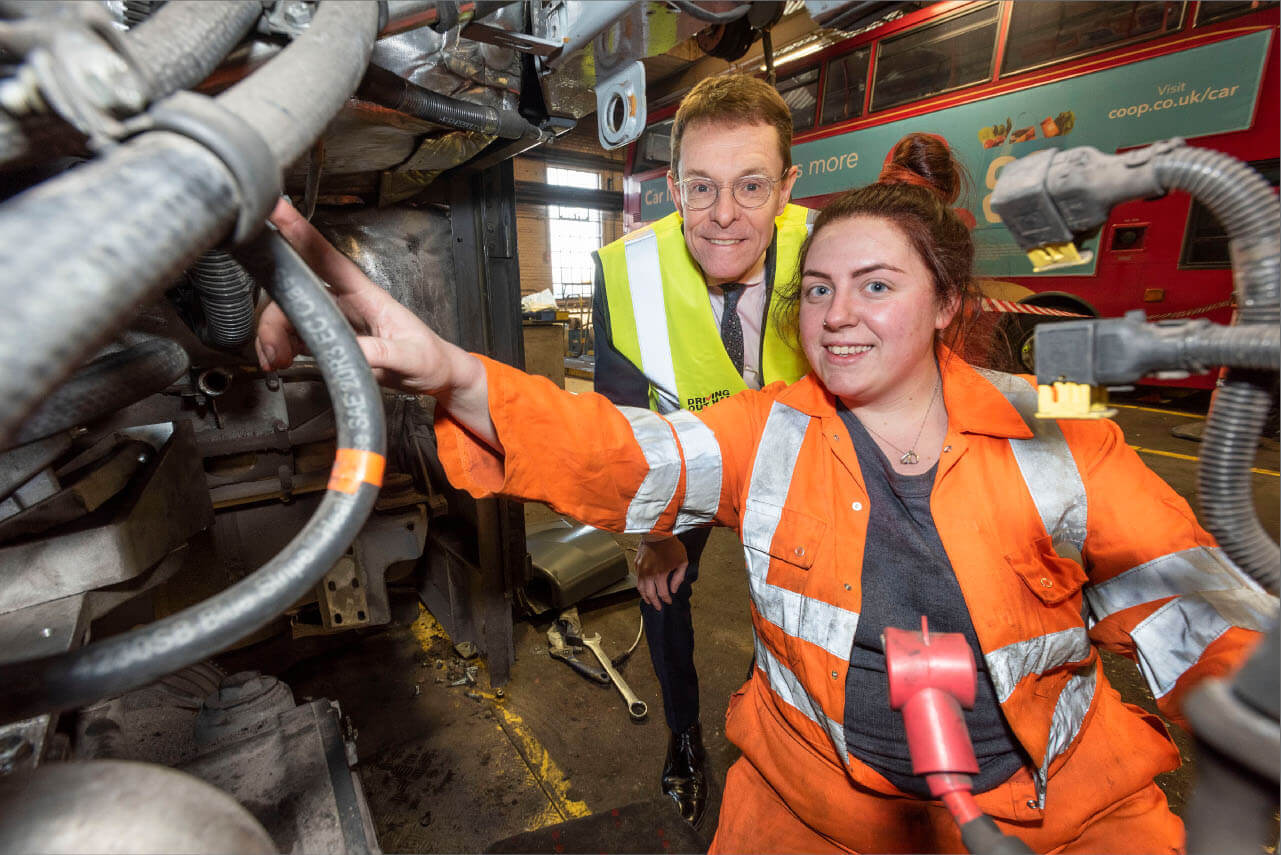 Mayor of the West Midlands Andy Street has unveiled plans to transform the region's bus fleet by 2021 – making it the cleanest outside of London.
The aim is for all of the 2,100 buses in the West Midlands metropolitan area to be Euro VI-compliant by April 2021, a move which would slash emissions across the network by up to 95%.
To assist in the upgrade or retrofit process, Transport for West Midlands (TfWM) – part of the West Midlands Combined Authority (WMCA) – has waived the fees it charges operators for using the region's bus stations and roadside passenger information for a year.
This will free up £2.7m for bus companies this year, which will enable the upgrade or replacement of 360 vehicles.
Andy said: "Poor air quality is a major public health challenge in the region, contributing to almost 1,500 premature deaths per year.
"So, my ambition is for every bus in the metropolitan area to be replaced or upgraded by April 2021.
"We have already given £2.7m this year to help the bus operators, but we will need to find more money to make this happen and I am determined to get this for the West Midlands."
The Mayor added that TfWM is working with the area's 29 operators to ensure there will be enough buses to serve all routes while vehicles are off the road for retrofitting.
David Bradford, Managing Director of National Express West Midlands, added: "As part of the Bus Alliance with Transport for West Midlands we work very closely together on our commitment to improve air quality and reduce harmful emissions in the communities we serve.
"In the last four years we've invested more than £100m in upgrading our bus fleet. This includes over 350 brand new buses which have some of the cleanest engines on the market, as well as refurbishing our older vehicles with cleaner exhausts.
"Alongside our investment in cleaner, greener vehicles, the bus priority measures being delivered through the Alliance are helping to tackle congestion and clean up air across the West Midlands."