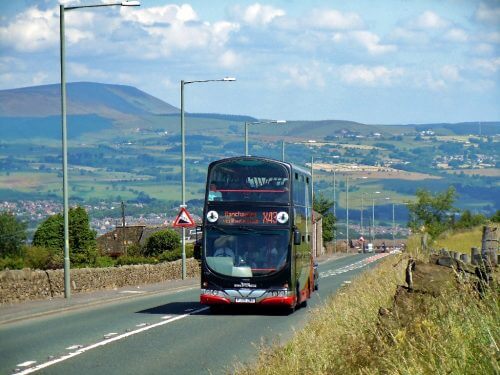 Gareth Evans sets the scene for this issue's superfeature on Transdev Blazefield, a 400-bus operation which stretches across the Pennines
Blazefield is synonymous with brands such as Witchway, the 36 and Coastliner like Cadbury is with Dairy Milk, Creme Egg and Crunchie. Quality, where passengers are offered additional refinements such as premium standard seating on key, high-profile routes – and the use of brands rather than service numbers – has remained a cornerstone of the operation for many years, long before such features became more commonplace across the wider industry.
The firm's operating area stretches from Manchester, Blackburn and Burnley across the Pennines to Harrogate, York, Whitby and as far south as Leeds – a diverse landscape on so many levels. Owned by Transdev, Blazefield is unique in the French multi-national transport group's portfolio in that its creative, deregulated model contrasts with Transdev's traditional focus on contracted, franchised businesses.
Two years since CEO Alex Hornby joined the business, it has moved from cost control to revenue growth mode – although it would be wrong to imply life has not been without its challenges. The latter include Lancashire County Council's supported service cut last year, which dealt a £1m blow in revenue. Despite the austerity bombshell, the team's determination was not dented – if anything, it was hardened. Business growth projects continued to be developed, including the introduction of contactless payments, service upgrades and new buses.
As always with CBW's in-depth superfeatures, we have aimed to get a snapshot of this interesting company. For example, Blazefield […]
What you get with a subscription
Operator & Supplier Profiles
Face-to-Face Interviews
Lastest News
Test Drives and Reviews
Legal Updates
Route Focus
Industry Insider Opinions
Passenger Perspective
Vehicle Launches
and much more!